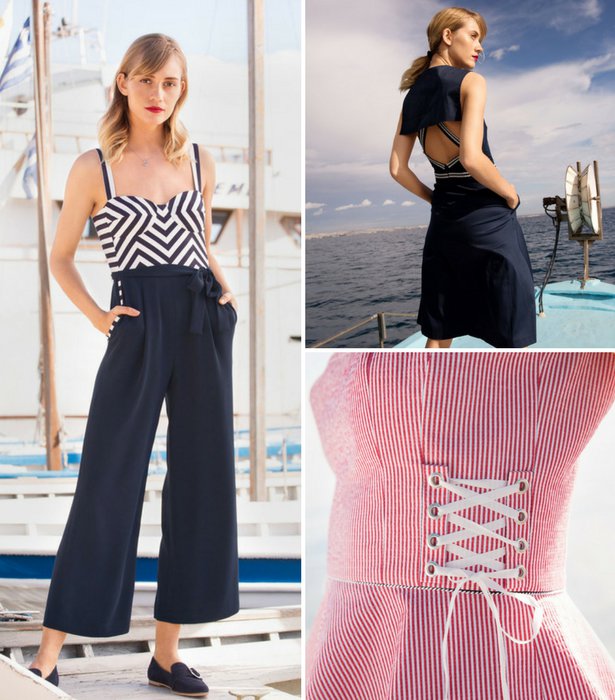 ShareThis
The marine look is still a top trend on our wishlist for this season featuring new combinations of casually elegant retro cuts and sophisticated details from the 05/2018 issue of BurdaStyle magazine.
Click here to see every pattern from the May 2018 issue in our digital preview lookbook!

A streamlined and narrow fit look that is next level sophistication thanks to the striking stripe fabric. Darts help shape the look and a tying belt at the waist that can come together in front or back, add to a the perfect fit.



Classic stripes get a new look. The diagonal yoke of the shirt with the straight stripes along the sleeve cuffs adds a soft lace-up near the neckline and the lower volume of the top is brought in with a hem band.



Super stylish and a true sewing skill builder when you follow this sample and you match the striped fabric of the bodice for the perfect zigzag matching. The pocket openings have a striped detail element, as well. Style tip:
Wear the look with high heels and gold jewellery as a cool alternative to a cocktail dress.



Shine as bright as the sunshine in this fitted wrap blouse with the XL-neckline and balloon sleeves. The straps can be adjusted with the knots at the shoulder. Another option is to cut the straps longer and tie them into bows at the shoulder.



This is the piece we have been waiting for – a touch of magic from perfectly fitted panel seams and a bit of a peplum kick at the hem that practically shapes a narrow waist on its own and most certainly makes for a beautiful decolleté. Lacing along the sides lends an extra girdle effect.



This knee-length dress with the contrast trim topstitched along the sleeve opening and waist is both sporty and feminine. The sailor's collar pulls through a loop in front.



The perfect wardrobe piece for traveling. The generous skirt isn't just comfortably breezy, the seersucker fabric is also practically wrinkle-free . True to style details include the decorative pocket flaps with XL-buttons
and the lacing at the waistband in back.



Rather than a bib, the trousers have front seam button attachments that are accented by contrast stripes that fasten the trouser edges. Optional: show a little leg!



Whether the office or a weekend trip are on the agenda…this boxy jacket is absolutely charming with a masterful mix of stripes that works for many occasions. An adjustable tab in the back adds a touch of shape, pleats in the bodice as well as decorative stitching add a modern twist. For a timeless look, simply sew it in a solid color fabric.


Download all these nautical style patterns in the discounted pattern collection bundle here!