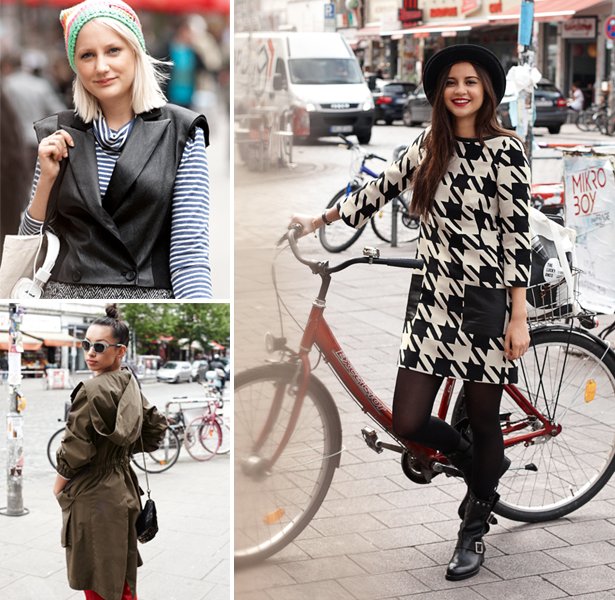 ShareThis
Street Chic is the latest sewing pattern collection from burda style magazine's September issue. Parkas, cutaways, shift dresses, and pencil skirts…this collection relaunches mod culture favorites. It's easy to mix these patterns into your wardrobe to create your own cutting edge style!
This collection has a rocker vibe with lots of black and leather. So whether you are attending a concert, grabbing some grub or strolling down the street, these styles will have you looking fearless and edgy.
Stripes and leopard print? But of course! This cool outfit proves they go perfectly together. This loosely styled knit Side Gather Top is a cozy autumn favorite. It is shirred along one side seam and the sleeve hems to create interesting volume. We love it paired with these Printed Pants that add a quirky touch to any outfit. They are figure hugging and the unique ankle-length creates a great showcase for super shoes!
This outfit is casually chic! For whatever you feel like doing, this Tailcoat Blazer with contrasting lapels and lining makes the perfect addition to an outfit. It has a cutaway hemline in the front and a nice tailcoat in the back for a classic blazer with some style! We love it paired with cuffed jeans and pumps for an effortless look.
This ensemble is edgy with a touch of elegance. She wears a figure flattering leather mix Vest that is just the right amount of edge. It is double-breasted and has structural shoulder pads that really gives any outfit style. Worn with this straight-cut Midi Skirt creates a nice clean line on the body.
Striking pattern, large patch pockets, and angular seamlines make this Shift Dress extra special. We adore this everyday shift dress, just like the one Twiggy wore.
To bring this dress up to date, rock a pair of black biker boots by Belle by Sigerson Morrison, or pair it with our Vest!
In the wild 1960s, the scooter-riding mods wore a Parka like this one to protect the good clothes worn underneath – and of course, to look trendy. This large hooded parka with bellow pockets is super stylish and a fall wardrobe essential.
Here is an outfit that is fit for the streets. This Velour Top with a small stand-up collar is a great top to pair with any bottom. It features a hem band and a nice V-neckline in the back that adds a dramatic touch. It looks fabulous paired with the Ultra Mini-Skirt. Not only is this skirt sexy and easy to make, but thanks to the stretch leather, it's also really comfortable and versatile.
When the weather get a little cooler and you don't want to bare all, try wearing this cozy chic top with a cool pair of leather pants, such as this chic pair by Alice + Olivia. While you're at it, accessorize with a pop of color, such as with this Foley + Corinna clutch. Rock on!
This post is sponsored by eBay. From the new to the hard to find, when it's on your mind, it's on eBay.