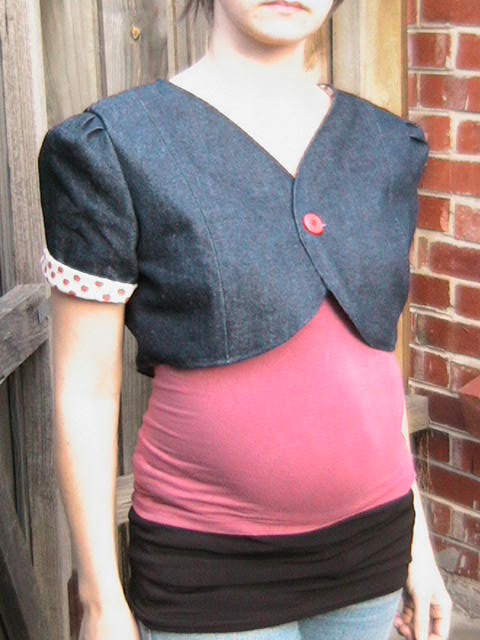 ShareThis
I had it easy this week. I made another alteration of the Steffi jacket. I used the same muslin I made for my first alteration and drew onto the muslin with a pencil, I cropped it into a bolero between the bust and waist and left off the collar. I then cut the alterations and marked them onto the paper pattern, you will see them in my how-to marked in orange. This was so easy to make, I used some recycled denim fabric for the outside and some new apple fabric for the lining that I just couldn't resist buying last week (slap on the wrist for me!).
I basically made the jacket as I did with my first version but without the collar and facings, I then made the lining in the same way except i rounded off the sleeves at the top and gathered them rather than adding the pleats. I then put the two jackets together right sides facing and sewed around the edge leaving a gap at the back hem. I turned it right sides out, pressed the seams and topstitched. I then stitched the sleeves, which I made shorter this time, and folded them to add a cuff which shows off the apple fabric nicely. I added a cute vintage red button from my stash to the front for closure and that's it, so simple but a great result.
Next up is Jane. I was thinking of altering the top so it was like a nursing bra with the flip down bust that clips onto the strap but Westupen suggested that I split the front under the bust and add poppers to fasten in place. This seems like a much simpler alteration so this is what I'll be doing along with the alteration to the front of the shorts.
My next challenge is to make Idit and alter it to accommodate my bump by making it longer and wider if need be. I'll also have the front wrap over more maybe by adding more fabric and having it meet at the bust. I'd also like to add a hood as is suggested in the comments on the creation page.
Any suggestions or thoughts? Please leave a comment below.