ShareThis
Dozens of Young Hollywood's brightest stars graced the blue carpet at last night's Teen Choice Awards. Unlike the formal couture worn to most awards shows, these fun and flirty looks are perfect for everyday DIY celebrity style!
A plunging V-neck halter was a popular style choice at the event, creating a look thats both daring and sophisticated. The Lace Halter Dress gives you the option of either rocking the low-cut V or opting for a more modest version with a strapless bodice underneath.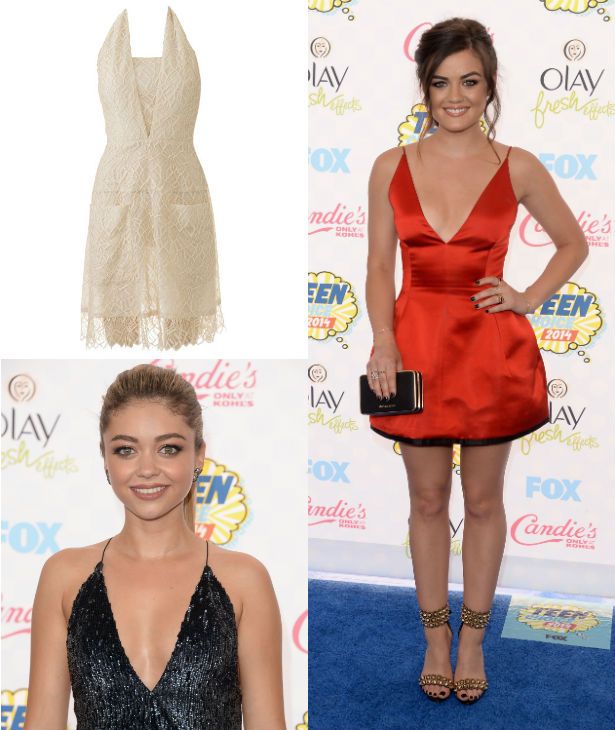 Curvy contrast side panels are always a great choice when it comes to flattering the figure. The neon/pastel fabric combination of Katie Leclerc's dress is definitely eye catching! You can get the look with the Asymmetrical Jersey Dress. Ruching along the panel seam creates an even sultrier silhouette.
Bella Thorne looked beautiful in blue in this unique and stunning dress. The full tucked skirt adds movement and volume while the nude panel in the bodice guarantees a second look. Get the look of the full tucked skirt with the Princess Dress. If you like Bella's summery look, you could modify the style and combine it with a strapless sweetheart Bustier pattern.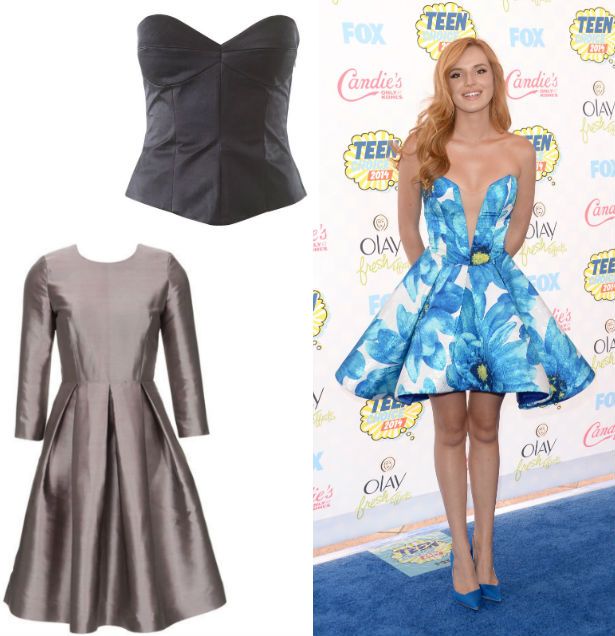 Both Taylor Swift and Haley Ramm were dressed in feminine eyelet crop-top and skirt combos. Taylor's pretty green outfit really stands out with the contrasting geometric panels at the hem of her skirt. Try the Tucked Mini Skirt for a skirt shaped like Taylor's, or the gathered Godet Skirt, similar to Haley's style. Sew the sultry Satin Bustier in a matching fabric to complete this versatile look.
Nina Dobrev is certainly dressed to impress in this polished ensemble! The vibrant colors in the shimmering fabric work perfectly together to transform otherwise simple garments into a glamorous outfit. You can get Nina's look with this Basic Tank and Pleated Shorts. Add a little extra flair to the outfit with the asymmetrical front Leather Shorts.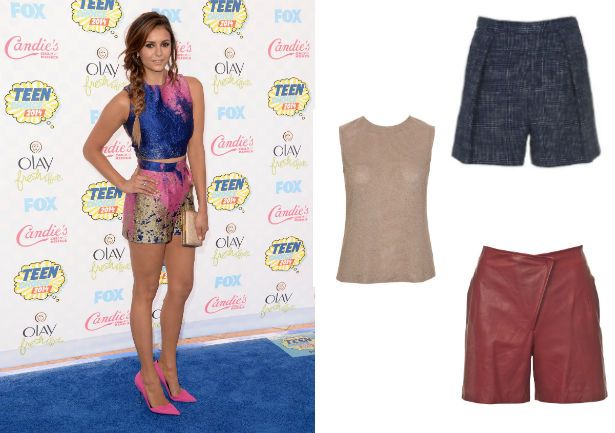 And on a closing note…Hey BurdaStylers! I haven't formally introduced myself yet, but I'm Alana and I'm the Assistant Editor at BurdaStyle US. I'm the newest member of the lovely BurdaStyle team, but I've been working behind the scenes for a while now at BurdaStyle.com and I figured I'd finally come out and say hello. Celebrity style happens to be one of my favorite topics, so chatting about fashion at the Teen Choice Awards seemed like the perfect place to start! I'll be posting more about my own sewing projects in the near future… I am an absolute couture fanatic so most of my projects involve reimagining those dramatic runway designs and working them into more wearable everyday styles. I'm constantly inspired by the AMAZING member projects and creations on this site, so I hope I can begin to inspire you in different ways as well! Feel free to send me a message on here any time… questions, concerns, or to just say hi!
What did you think of the fashion at the 2014 Teen Choice Awards?
Happy Sewing!