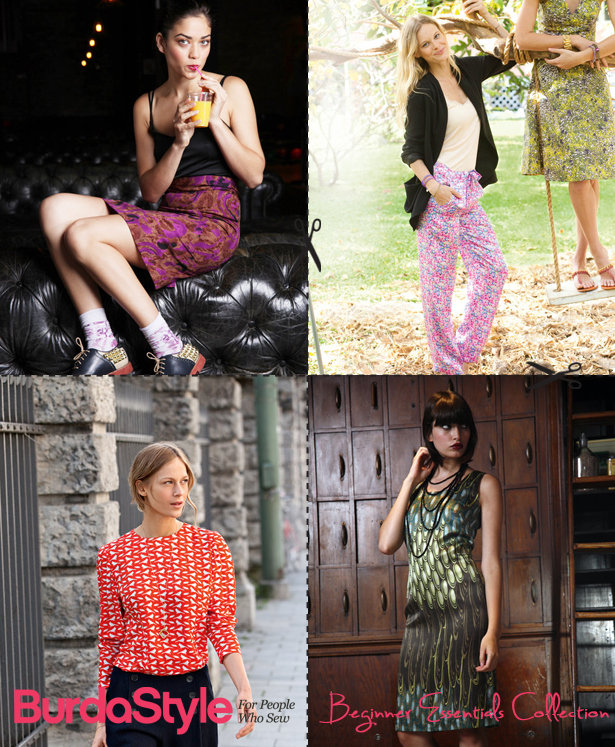 ShareThis
The latest Beginner Essentials Collection is here to get you started with Burda. Buy it for yourself, or for a novice friend!
The Beginner Essentials Collection is designed for new members of BurdaStyle's sewing community. This kit has nine of our best-loved beginner patterns, like a basic pencil skirt, lightweight drawstring pants, and a tank dress for all occasions. You'll also get a video tutorials on stocking your sewing kit and working with Burda patterns from downloading to assembly, plus a guide to measuring yourself for the perfect fit.
Take a peek at the Table of Contents below…
The Anda Dress, Fatina Dress, Jenny Skirt, Front Pleat Dress, Tank, Printed Blouse, and Tie Up Pants are suitable for any beginner seamstress. Once you master these designs, you'll be moving on to sewing trousers and party dresses in no time!
And if these patterns are too simple for you, the Beginner Essentials Collection makes a wonderful gift for a friend or niece ready to dive into garment sewing.
Looking for more advanced kits for yourself? Check out or the Booming Dreams Pattern Collection, with beautifully detailed dresses and lace projects you can sink your teeth into. Or start designing your own patterns with the Pattern Modification and Drafting Technique Collection Bundle. This huge technique bundle contains six videos, two web seminar recordings, and basic patterns for a bodice, sleeve, skirt, and trousers!
Everyone has to start somewhere… dive right into home sewing with the BurdaStyle Beginner Essentials Collection. For a limited time, you can get this kit for $19.99. The price will go up in June, so get it now!