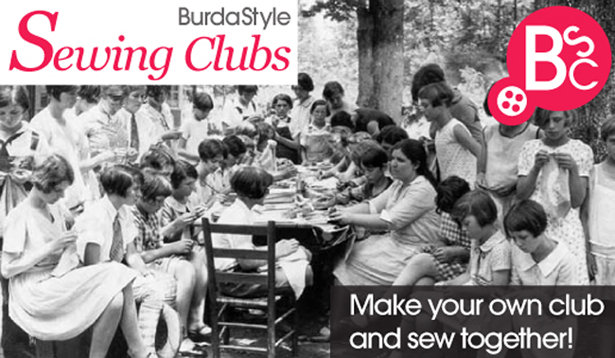 ShareThis
[Updated 7/1/2011 – For information on how to start a club or connect with one of your own, please visit this dedicated blog post.
Badges to promote your BSC can now be found directly on site. Download them here.]
Several members have expressed the wish to meet with other sewing enthusiasts near them. So we thought it would be great to help initiate BurdaStyle Sewing Clubs!
A BurdaStyle Sewing Club (BSC) is a group that meets regularly to discuss sewing related issues. Each one is uniquely tailored to fit its members, and each leader is given control over what is discussed, taught and created.
BSCs are centered around each group's unique schedules, and can meet weekly, bi-weekly or monthly. The clubs are simply a way to bring our online community offline and, like our website, is intended to be versatile for a wide range of interests and lives. They promote our open-source philosophy: the idea that information ought to be shared freely among anyone interested in learning. The BurdaStyle Team is on hand to offer advice regarding meeting ideas, venue options and promotional help.
Forming a BSC is easy! Interested members can simply send an e-mail to david[at]burdastyle[dot]com, stating their interest and location. You are then sent a detailed introductory letter, explaining what a BSC is and their expected responsibilities. Although having more than one BSC in the same location is accepted, we encourage prospective leaders to first contact the leaders nearest them.
Once you review and accept the responsibilities in the introductory letter, you will be sent a Leadership Packet. The Leadership Packet contains everything one needs to start and maintain a successful club, including:
- An introductory guide to the BurdaStyle Sewing Clubs
- A sample proposal letter for prospective hosting venues
- A flyer template to advertise your BSC
- A Member Information Sheet to learn more about your club members
- A preformatted Excel spreadsheet for organizing your club
- A printable How-To
Along with the Leadership Packet, new BSC Leaders are given a custom 125 pixel badge, with the BSC logo and their specific location. You are then listed on the BSC Leader Directory and on the BSC Google Map. Our Leaders are then encouraged to create a group page on the BurdaStyle Ning Site, an extension of BurdaStyle.com specifically for BSC members. There you can meet other leaders throughout the world, post upcoming meeting dates, share group photos and creations, and brainstorm new ideas!
Established in April 2009, there are over 260 BurdaStyle Sewing Clubs in 14 countries worldwide.
Start a new BSC today! E-mail david[at]burdastyle[dot]com for more information.
Image from the Auburn University Libraries