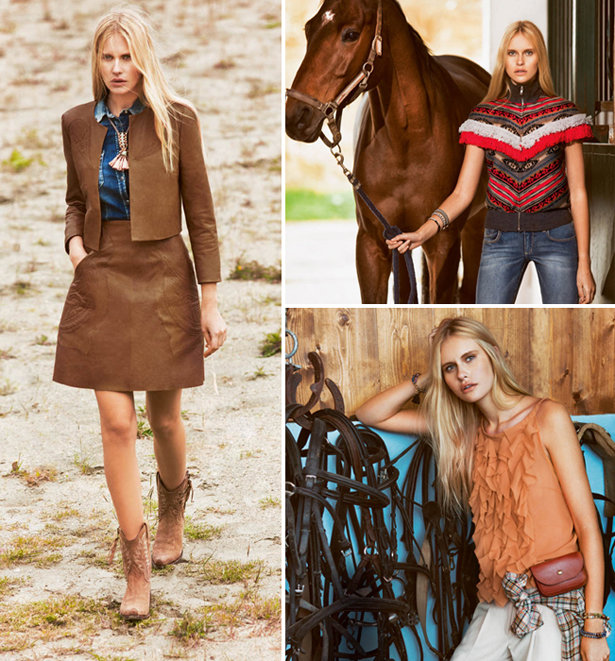 ShareThis
This new collection from the August 2015 issue of BurdaStyle is on point. Boho seventies pre-fall. We absolutely adore the Navajo Coat, which is a true statement piece and can't wait to test our advanced sewing hand at the Tailored Blazer, which is not for the faint at heart.

Italian Black/White Abstract Stripes Wool Woven; Black and White Herringbone Wool-Lycra Boucle; 80L/50.8mm Black Horn Toggle
Red/Blue Misc Printed Cotton Poplin; Famous Designer Red & Purple Cotton-Viscose Floral Print; 7 inch X 38 inch Dark Cardinal Red Acrylic/Spandex Rib Knit Trim
A fashion statement piece! This navajo-inspired coat features raglan sleeves, wide sleeves, front pocket openings and a large hood. It has an open style silhouette but can be closed with a hook and eye. The most fascinating part is the faux leather pieces sewn onto the lower part of the sleeves.

Red/Blue Misc Printed Cotton Poplin; Famous Designer Red & Purple Cotton-Viscose Floral Print; 7 inch X 38 inch Dark Cardinal Red Acrylic/Spandex Rib Knit Trim
Sew seventies! This boho dress features a gathered waist, wide cuffs and raglan sleeves. The navajo ikat print adds so much character and beauty.

White Bohemian-Inspired Cotton Gathered Woven; Embr & Eyelet; Steven Alan Off-White Boho Cotton Gauze
The cut of this shirt is simple. However, before sewing the pattern pieces are fitted to the back allover with transverse, open-edged ruffles.

Black/White Textural Striated Cotton Blend; Black/Soft White Striped Cotton Woven; Famous NY Designer Black, Pale Gold and Gray Print Cotton Sateen
This is the skirt length of the season! Just below the knee with a slightly longer hem in the back, very seventies. Style it with a denim shirt and cowboy boots for a country/city look. There are two darts in the front and two in the back.

Neon Salmon Polyester Wool Dobby Chiffon; Peach Fuzz Silk Crinkled Chiffon; Clay Silk Iridescent Chiffon
This light and airy tank can be spiced up with flowing ruffles running vertically down the front panel. Two front darts make for a perfect fit. If you would like just a simple tank, omit the ruffles.
This trendy leather jacket is cropped a little shorter than average. It features no collar and simple sleeves. The cognac leather gives is a very urban vibe and can easily dress us the simplest t-shirt and ripped jeans.

Italian Burro Floral Tooled Faux Leather; Bronze Waxed Linen Blend; 887 Mink Brown 100m Gutermann Extra Strong Thread
This a-line leather skirt is simple until you try your hand at the intricate needlework to create a fun western pattern. It's a perfect fit with two darts in the front and back.

Thrush Brown Solid Wool Coating; Ralph Lauren Acorn Checked Cashmere Coating; 24L/15mm Italian Gold Zamac Shank Back Button
This elegant and very customized blazer has just the right amount of Western flare. It has many features including folded round pockets, wide lapels, dramatic shoulders and decorative button closures.

Cadet Dark Navy Aztec Virgin Wool Woven; Cadet Heathered Charcoal Cotton Rib Knit; 8 inch European Red Chainette Fringe Trim
This unique vest features cap sleeves, a stand-up collar and zipper closure. The asymmetrical cut and tapered shoulder yoke make this a standout piece.
Happy Sewing!