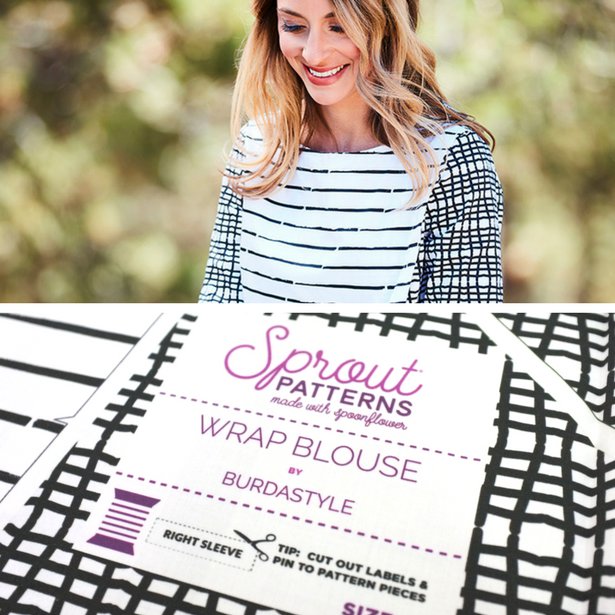 ShareThis
Last week we revealed our new partnership with Sprout Patterns, and this week we are taking a closer look at 1 of the 6 patterns avaliable to "Sproutify!" Our Wrap Blouse is one of the most popular and versatile top patterns on BurdaStyle.com, so we just had to include it…

When you order a Sprout pattern, it will come shipped with your selected size digitally printed onto the fabric and print of your choice and you will also receive the PDF sewing instructions that you can print as well as a bonus video that you can watch to see how to sew the most difficult step to the top… the mitred hem!



Notches are included on the printed pattern, but not dart legs. Refer to the printing legend within the instructions to just print the pages needed from the original PDF BurdaStyle pattern for the specific marking, just remember to add 5/8" seam allowance for the edges to match. For the Wrap Blouse I used a disappearing pen to draw in the dart legs, but you could use a tracing wheel and paper if desired.



The neckline is finished with a piece of binding that is sewn to the right side, flipped into the wrong side and topstitched in place. This black and white version I sewed myself as a sample, and it turned out so great!
This black and white printed version that I sewed was a size 38 and I made in their Organic Cotton Sateen Ultra. I found this fabric type perfect for this blouse fabric, as it has a tiny bit of stretch in it. This blouse fit myself great and I have a 39" bust and 29" waist, but it also looks great on this smaller model for a looser fit…

The following white version was made to replicate the original pattern styling so we made it up in Poly Crepe de Chine and again in size 38. This fabric was quite difficult to sew with, so we advise only advanced sewers opt for this fabric selection… But it is beautiful and makes a classic flowy and a bit sheer blouse.

This last version we sewed up as a sample was sewn in their Cotton Poplin Ultra with the under front panel a solid pink while the other panels were kept in the pink and white print. That is what I love most about this pattern, the ability to have fun and alternate the front panels in different colors and prints.



In the design stage you can use their solid co-ordinate tool to create complimentary and perfectly matching co-ordinates to the print!



This fabric is part of our signature BurdaStyle print collection that you can view here.


Design and sew your own BurdaStyle + Sprout Wrap Blouse today!