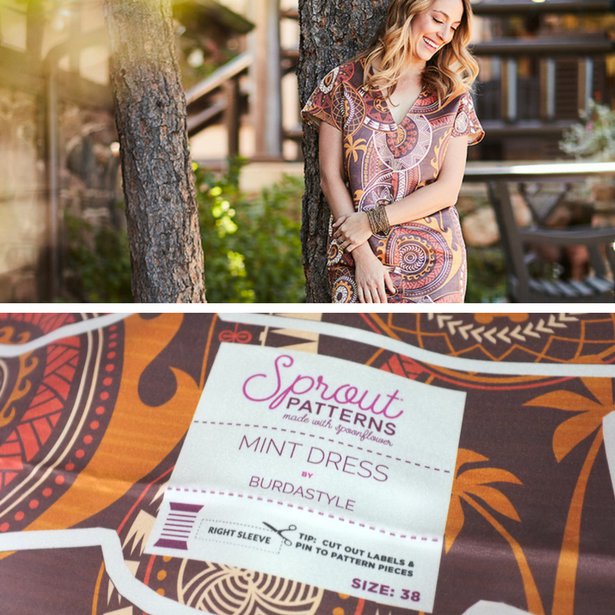 ShareThis
This is one of my favorite patterns offered as a Sprout pattern… Our BurdaStyle Mint Dress! But with Sprout, you can make it any color and fabric you like including suede (this is our only pattern offered with Sprout that you can make in their suede). It is also special in the fact that it can also be sewn for plus sizes if you choose the knit option. Read on to learn more about this pattern…

I chose to make my sample in their Faux Suede, which was an excellent choice as it made the dress warm and have structure. I also opted to a size 38, which could fit a lot of different body types! This pattern has a loose – but structured silhouette. You can wear it belted for a cinched waist look, or loose for a comfy everyday dress style!



When sewing my sample together in the suede, I went for a really topstitched look. So after sewing every seam, I hand pressed my seam allowance open (don't iron) and topstitching on either side. Use appropriate topstitching thread and leather needle in your sewing machine.



And here is the look!



With purchase of this Sprout pattern you'll also receive a video download on how to construct the zippered pocket openings! This is definitily the trickiest part of putting this dress together.



The neckline of this dress is finished off with a facing, and it perfectly finshes the deep V neckline. In order to get a nice point, once you sew your facing right sides together with your neckline, make sure you clip right into the V!



Instead of under-stitching like what you would normally do for a facing, I topstitched mine for the look.



Ta-da! Finished facing.



Also make sure to hand stitch the facing down inside to the shoulder and back seam allowance to keep it from flipping to the right side.



I also stitched a nice wide hem on my dress to give it weight.



This is a refreshing sporty dress that features side metal zipper pockets and a lovely deep V neckline.



The casual length and silhouette easily flatters any body type! You could also try belting this dress for a casual daytime look.



Sewing this dress in the Organic Cotton Knit Ultra fabric option? Plus sizes can make it too! Use this guide to help you choose the right size in knit:
Sizes 36 – 38: Choose size 36
Sizes 38 – 42: Choose size 38
Sizes 42 – 46: Choose size 40
Sizes 46 – 48: Choose size 42
Sizes 50 – 52: Choose size 44



These different models are wearing the same dress sewn in size 38. Really is the "Sisterhood of the Travelling Pants (dress)" kind of situation haha.