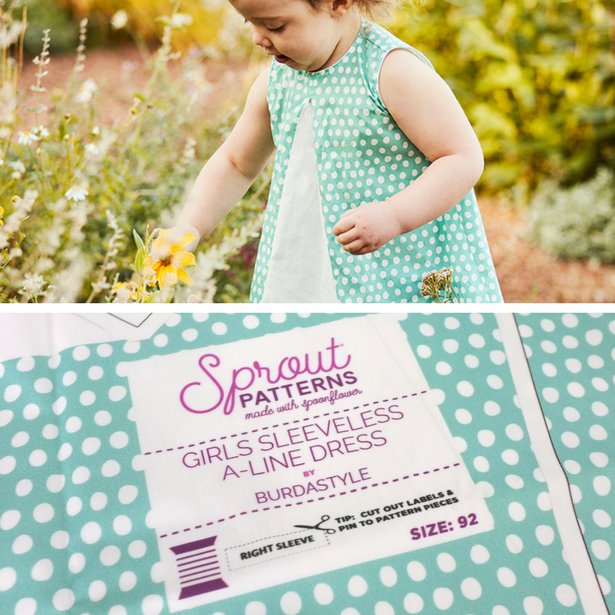 ShareThis
This week we are featuring one of our little girl's patterns part of our new Sprout Collaboration. Our Girl's Sleeveless Dress features a wide inset pleat that is perfect for fabric mixing, and even better with Sprout as it will come on the same yardage of fabric! Read on to learn more about this pattern and design one for your little one…

The polka dot sample I made was in a size 92 and I used their Cotton Poplin Ultra. This pattern is suitable and avaliable in woven fabrics, and can be sewn for all seasons. Opt for the canvas and twill for a wintery dress worn over a turtle neck, or the Kona cottons for a summery dress.



For this pattern there are a lot of bias strip pieces for the neckline, armhole and back slit! So it can get confusing… Once you cut out the strip, cut out which location the strip is to be sewn to.



The armholes and neckline are finished with these strips and they are not visible from the right side and instead sewn to the wrong side for a beautiful finish. Whatever print/color you choose for your pleat will also be your bias strip!



For ease of getting in and out of this dress, it is designed with a back slit that has a particular way of sewing it, so we have film and included a tutorial video on how to do this step with the purchase of this pattern. To see how to hand sew the thread look, click here!



The end result of this dress is simply adorable! I love how I made my sample look just like the original BurdaStyle one!



And with the inset pleat, it allows for super cute pattern mixing, and you can also use their co-ordinate tool to get matching solids to the print you selected.