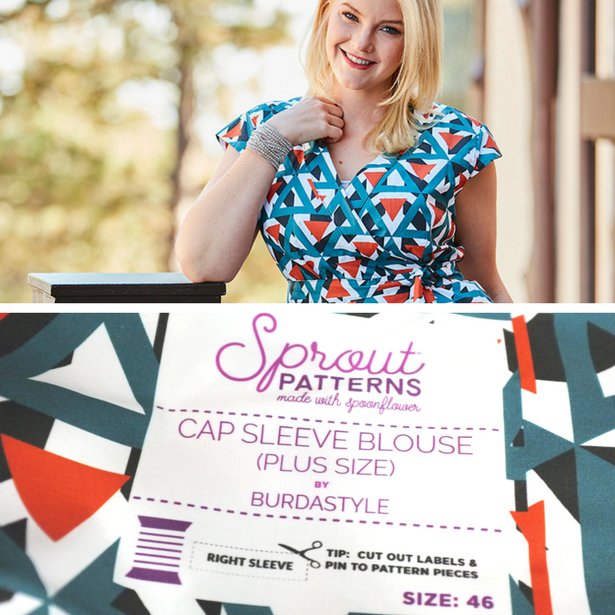 ShareThis
Our main plus size option for our Sprout Collaboration is this Cap Sleeve Plus Size Blouse offered in sized 44 – 52! This is a beautiful blouse for women who like to accentuate their waistline. The cross over bodice and the tying bands define the midriff, while the extended shoulders and attached shaping bands are wonderfully complementary and add visual balance. Read on to learn more…

The cap also add extra coverage to this top pattern but can easily be omitted for a sleeveless design, simply install the armhole facing without the sleeve in between.



The sample made was sewn in a size 46 using their Kona® Cotton Ultra which was a great choice! If you wanted a blouse for more special occasions you could opt for the silk/satin options, or the Poly Crepe de Chine for a semi-sheer looking blouse.



There are several darts in this pattern style, and the dart legs do not com marked on the Sprout pattern. Included are the pages of the pattern PDF that have the dart markings that you transfer to your pattern pieces. You could use a tracing wheel/paper, or simply use a fabric pen like I did.



The bonus instructional video included with your Sprout pattern purchase goes over how to install the cap sleeve and armhole facing, but another feature of this blouse pattern is the bands that finish off the front criss cross.
First you sew the shoulder seams of the blouse and bands, right sides together, and press open. Pre-press the outside allowances to the wrong side of the band and lay the band RIGHT side down on the WRONG side of the blouse as pictured above.



Pin together all around the neckline and fronts to the waistline.



Stitch together with 5/8" seam allowances (the amount added on our Sprout Patterns) and grade the seam allowances to 1/4".



Flip to the right side of the blouse and pin the outer pressed edge of the band on the blouse.



Topstitch close to the pressed edge.



Band complete!



This model is wearing all size 46, and the green floral version is sewn in their Silky Faille with a contrasting band complimentary to the fabric.



You can really have fun with this style! Make the front bands and tie bands contrasting, or all in the same print.