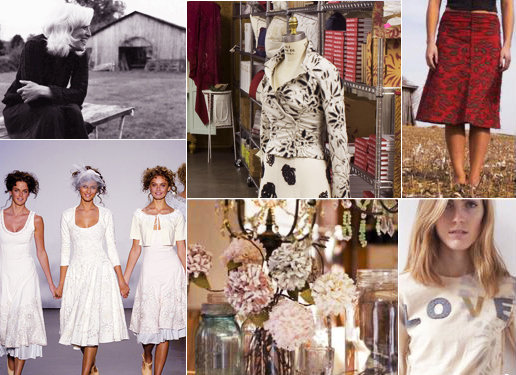 ShareThis
Natalie Chanin is a mother, designer, writer, manufacturer; a soulful woman to whom quality of life comes first, as in living, loving, laughing. It comes as no surprise that Natalie has created a coveted lifestyle brand Alabama Chanin, which focuses on slow design and sustainability. Chanin created her first American couture label Project Alabama in 2000, which to much dismay shuttered it's doors in '06. Project Alabama came from a cut up t-shirt Natalie manipulated and hand-sewed herself. "That hand-sewn shirt hatched a company, a concept, a clothing line and ultimately brought me back to my family, childhood home and community."
Natalie was kind enough to answer some of my questions, this is Part 1 of our conversation:
You have been creating garments in the Upcycling vein ever since your first line, "Project Alabama" came to light. These garments, which are literally "passed from hand to hand, and generation to generation" represent something very unique. How did it all begin?
The old story of me cutting apart a t-shirt and sewing it back together again for a party is really the basis of the company I own and run today. I sewed that t-shirt because I wanted something special to wear. What I found out was that it had been a very long time since I had made something with my own two hands. That process of making rather than buying excited me. I got up the next morning and started making another shirt, then the next day another, and the next day another. Those
upcycled
shirts became a t-shirt line, then a collection and today what I would consider to be a lifestyle.
I remember when "Project Alabama" was nominated for the Council of Fashion Designers in America/Vogue Fashion Fund in 2005 while shortly after the couture line closed its doors. What happened?
Yes, that was a year of highs and lows. We were nominated for the Cooper Hewitt National Design Award and were finalists for the CFDA Vogue Fashion Fund. Then in September of 2005, had our first fashion show and wound up on the cover of Women's Wear Daily. One year later, almost to the day, we closed Project Alabama.
As happens, things change, people, companies and concepts grow and take on their own lives. The Project Alabama that I started closed in September of 2006 and the company that I loved grew into what is now Alabama Chanin.
Project Alabama still exists; however, it is no longer produced here in Alabama, as was my original intention (I understand that the total production is now housed in India); the offices are no longer housed in Alabama, as my original vision of community dictated and the line is not designed by me, as many people still believe.
At the time Project Alabama closed, it felt to me like the end of the world; however, sitting here today, it feels that the world is just beginning.
Click here to see the behind-the-scenes slideshow, trust me, it is not worth missing!
You can view Natalie's book Alabama Stitch Book in our A-Store.