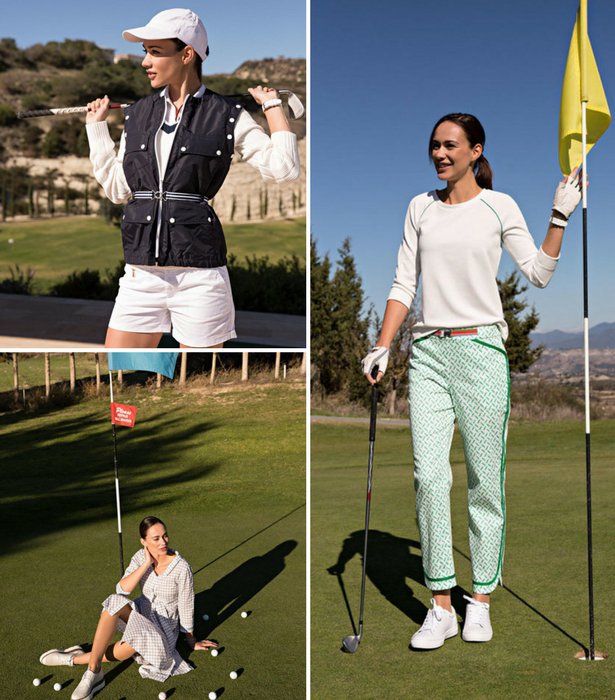 ShareThis
Right off the bat, the season starts with timeless cuts that are both sporty and fun from the 04/2018 issue of BurdaStyle magazine. These are styles that can be worn on the fairway as easily as at the office or a weekend trip with the family.
Click here to see every pattern from the April 2018 issue in our digital preview lookbook!

A touch of retro flair for this modern outfit. Knit this plunging V-neckline pullover yourself. Raglan sleeves and braided details along the sleeve are simply beautiful. The cotton yarn is lightweight enough to make it a perfect summer choice to beat the chill. Style tip: It can be a playful and modestly sexy look when worn with just a bikini underneath.



The front view of this shirt dress is a charming classic. The surprise is in the sophisticated back neckline. A striped belt with a metal clasp is a perfect accessory for the sporty look and shapes a wonderfully feminine silhouette.



A sweet look for sporty and feminine style. The attached skirt panel has lots of pleats and the snap accent band along the neckline and upper sleeve hems are sure to draw the second glances. Adjustable striped bands at the waistline let you shape it to comfort.



The remarkable feature of this summery shirt dress sewn with a cotton poplin is the dropped hem in back. The classic button placket runs the full length. For those who would like to keep it on the sporty side, simply finish the hem at an even length.


Raglan meets racer back – the result? A long sleeve shirt with a fresh look to the back neckline and sexy cut-outs.

Two looks in one: Shirt in front, blouse in back. This style combines sporty and chic into one piece. The rounded neckline turns over as a shirt collar in back and the placket is in the back. A soft gathering on the lower back blouse panels underline the relaxed look.



This design is a true change artist fashion piece! The sporty nylon jacket with stitched on front pockets has removable sleeves that snap off. A great option for the variable temps of the season.



The classic white poplin blouse is worthy of a second glance. Sophisticated details like the diagonal finish of the panels at the waist, panels in the sleeves, extravagant darts, stripes of petersham at the cuffs and fancy sleeves are ready to step up your white blouse fashion game.



A rounded hem, sewn-on trim and an elastic band belt will make these slim fit hip huggers a wardrobe go-to favorite.


Get ALL these sporty pattern styles in the discounted pattern collection bundle here!