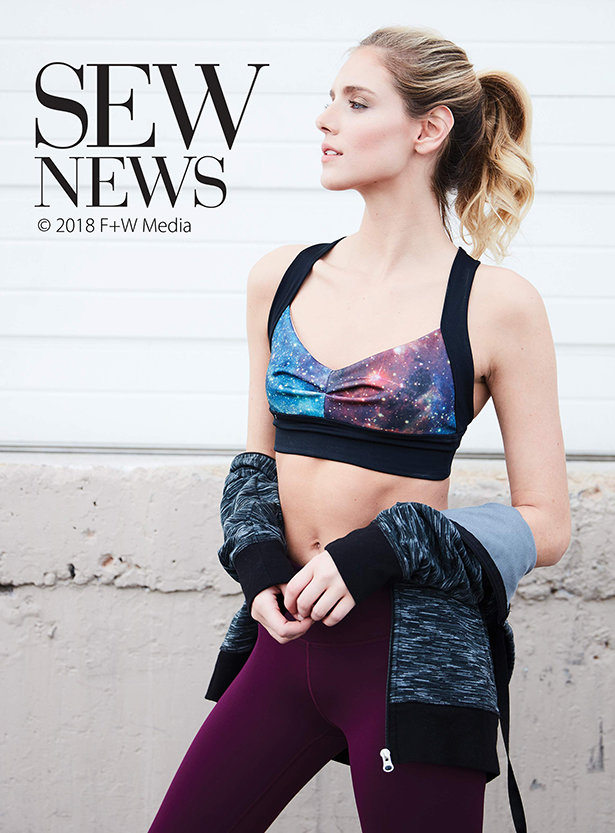 ShareThis
Yesterday I checked my mail box and the latest issue of Sew News Magazine was in there! For this issue I sewed up a sports bra in a cool space/galaxy printed spandex and show in my article how I rotated the dart in the pattern and also converted to pleats! I can't believe it has already been a year since I started doing this column in every issue of Sew News, and it has been such a wonderful, rewarding, and inspiring experience. Can't wait to see what 2018 brings! Read on to see more pictures, and learn how to use a twin sewing machine needle (video!) so you can achieve the same finish I used on this sports bra.
For the first issue of the new year I knew I wanted to make a sportswear pattern to compliment all the "New Year's Resolution" content that is out there, and BurdaStyle always releases an athletic pattern collection in their January issues. This year they had a yoga theme.

But in the magazine world I had to sew this sports bra back in the summer, so I went with our Sports Bra pattern #107 from the 01/2017 issue. I really did love this entire collection, and I previously made two patterns from it (for my January 2017 Mash Up). With a sports bra in mind for the column, I was obviously drawn to this particular pattern. I mean, just look at those back straps!


Download this Sew News issue here!

The Editor, Ellen March sent me this picture while shooting on location. Really love how this project turned out, and especially how it was styled for the magazine. Also included in the issue is a special coupon code to download the digital pattern.



Within the column, not only do I cover pattern alterations, but I also include sewing construction steps for the altered pattern. For this bra (because of the stretch fabric) I used my cover stitch machine, but if you have a twin needle you can totally get the same finish and effect. Watch the video below to see how to use a twin needle on your regular sewing machine:
Subscribe to Sew News Magazine here to never miss my Pattern Play Column!
Happy Sewing!
Meg