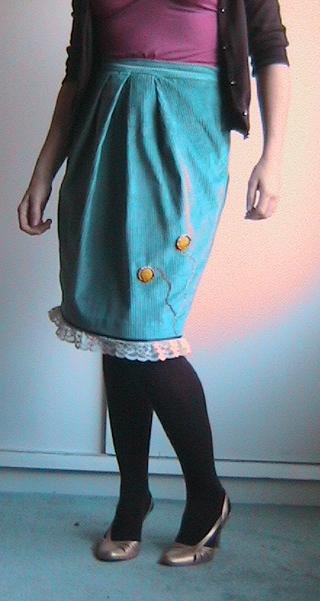 ShareThis
Sometimes recycled fabrics can be pretty plain and sometimes quite boring. Take for example the fabric I used to make the skirt 'Marie 9177' this week, a basic blue coloured thick cord fabric which was kindly sent to me by Philippa over at
http://www.supernaturale.com/glitter/">Glitter after she had a clearout. The fabric was nice enough on it's own but I thought it needed a little something extra, it needed spicing up!
I love ribbons, lace, buttons and all other kinds of notions and trims and I particularly like them to be vintage. I scour every thrift store I go into in the hope of finding a pretty old doily, some cool bakelite buttons or a length of pretty ribbon or lace trim. So, I dug out my stash, spread them out on the table and spent an hour or so matching and narrowing down my choice. In the end I decided to go with some beautiful yellow buttons, lace trim, tiny seed beads and brown and yellow ribbons.
Once the skirt was made up I sewed on the ribbons and lace using my sewing machine then spent the evening watching a movie with my Hubby whilst sewing on the buttons and beads. I find hand sewing very relaxing and have been doing more of this over the winter months (it's winter at the moment here in Australia) snuggled in front of the fire.
As you can see that extra work has really made a difference to the look of the skirt, what would otherwise be 'Just another skirt' is now something pretty special. So, next time you decide to sew something new why not try that piece of boring fabric you have sitting on your shelf which you over look every time and spice it up with some decoration? But you don't have to stop there; you could spice up some of those clothes lurking in your wardrobe just by adding a little something. Maybe those jeans with the back pocket hanging off would look great with a new fabric pocket or a cute cardigan could be revamped just by replacing the ugly old buttons for some funky vintage buttons. Something you had thought was no longer wearable could become your new favourite item of clothing!
Next time you're visiting the thrift store, check out their craft section, most have one where they have sewing and knitting patterns, yarn, zips and all of the goodness I have mentioned above, you will find some wonderful bargains. Other places you may find such items are market stalls and specialist vintage stores but you may pay more at these kinds of places. I sometimes visit a stall inside a bazaar the stall is tiny but chock full of vintage trims, the woman that owns it can be a little scary but if you arrive knowing what you're looking for there are some bargains to be had.
Check out NikkiShell's How To here.