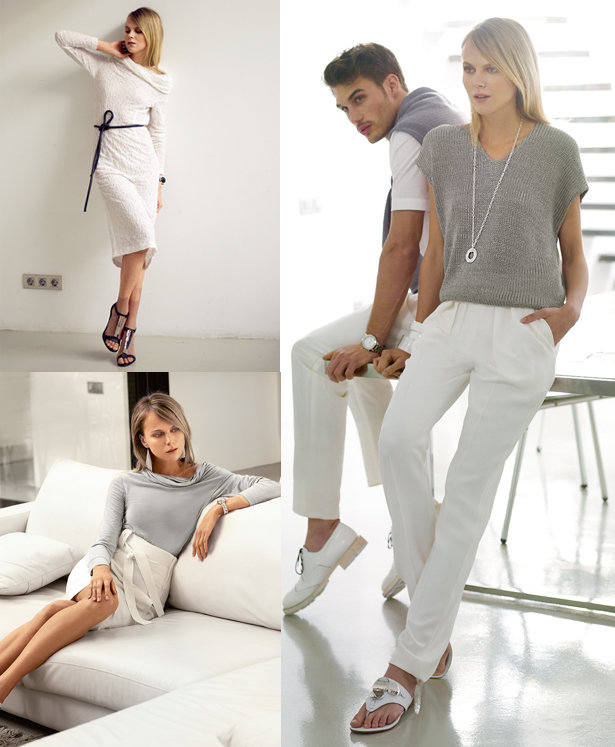 ShareThis
Freshen up your wardrobe with a dose of bright white in this 13 piece collection. You'll be ready to host a spring get together in detailed dresses and a men's summer suit. This collection is from the April 2014 issue of Burda Style magazine.
The Cumberbund Skirt's high waist with belt loops nips in your waist for a slim, crisp look. The matching belt and slash pockets are fun details.
An oversized funnel neck is slouchy but a little seductive in a slinky knit dress. Use a textured stretch fabric like cloqué for extra interest.
Give the trendy high waisted look a break with these low slung pants. An ankle dusting length shows off new shoes and is practical for summer.
This slinky Knit V Neck Pullover is luxurious but simple, perfect with a chic pair of linen pants and leather sandals. The Skinny Pants with Hip Yoke will make you the best dressed woman in the room.
Practice your topstitching and fitting skills with the futuristic Wings Dress. The wide boatneck and side panels are unconventional for a modern look you wont find anywhere else.
Mix up your evening wear routine with a cutting edge silk Evening Jumpsuit. It's distinctive, but has the subtlety of a pantsuit in crisp white or another neutral like navy.
Keep looking dapper through the summer heat with a pair of Linen Pants. Make a summer suit with the Men's Linen Jacket.
X marks the spot for style in this sculptural wonder of a dress. Eye catching pleats have a wrap dress effect that's contemporary and striking.
A comfy jersey top is even more luxurious with an oversized funnel neck. It's a cozier take on the relaxed boatneck.
The perfect Summer Blazer for all those summer yacht parties and spring weddings. It's a classic in linen with pockets and buttoned cuffs. Make a summer suit with the Men's Linen Pants.
Frame those curves with a Criss Cross V Neck Dress. This 3/4 sleeve dress shows off your shape, especially in pure white.
This boxy Wrapped Blouse is so elegant with the wrapped silhouette and wide boatneck. Wear it with low rise bottoms to show off the slightly asymmetrical hem.
This collection is a nice palate cleanser from all the bright and boho summer clothes about to hit stores. Make your spring a little more chic with these minimalist designs.
Happy sewing!