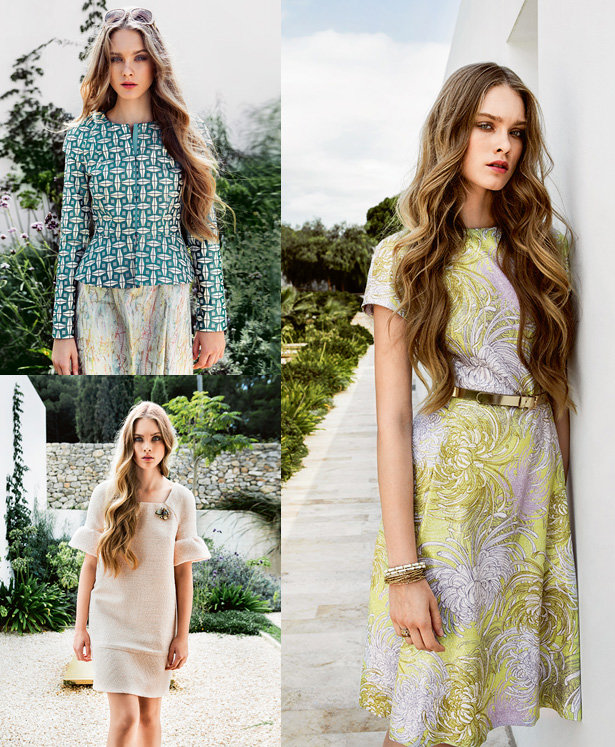 ShareThis
Rethink the skirt suit in this vintage inspired collection. Watercolor dresses, peplum sleeves, and sets that are feminine and flattering are beautiful on so many body types. These designs are from the February 2014 issue of Burda Style magazine.
Show off your shoulders and neck in a wide Boatneck Top. This structured top bares just enough skin for an alluring look. Pair it with the feminine and sophisticated Pleated A line Skirt with a cool inverted pleat and fitted hip yoke.
A round neckline, A line skirt, and flattering seamlines make the most versatile and ladylike spring Tea Dress. Make it in plaid for fall and a delicate floral for spring. This shape works with so many fabrics!
Striped fabric shows off the Skirt with Pockets's cool lines. You can dress this piece down with a tee shirt, or make a spring party outfit with a retro cardigan, pastel pumps, and a jeweled belt. The high waisted look is always chic and put together.
This short and sweet Square Neck Top has a cool neckline and fluttery peplum sleeves. The mix of sculptural and feminine details pops in a fabric with some body.
Architectural lines and a graphic print make this long sleeved Peplum Top a showstopper. The peplum hem is subtle for flattering waist shaping.
Top off a feminine skirt or a pair of skinny jeans with a pretty Slim Ladies' Jacket. Neat notched lapels and large front pockets give this piece classic style. Femme it up with a pastel Pencil Skirt with Zip Fly. Taking styling from denim minis makes this piece easy to wear as part of a skirt suit or on its own with a casual top.
Tops with serious volume like this Deep V Neck Top are all over the runways. Balance a deep V neckline with a roomy silhouette that has a high fashion look.
Make a stunning exit in this detailed Jackie Dress with a buttoned up back and V neckline. It's a classic look for formal events or dressing up at work.
You'll be a pleating master after making this beautifully detailed A Line Skirt. The pleated yoke hugs your hips, and large pleats flair out into an elegant A line shape. Wear it with a soft blouse and ladylike pumps.
Combine eras in this lovely Peplum Sleeve Dress with a square neckline, ruffled sleeves, and a flapper-esque hemline. It's a sophisticated silhouette made for garden parties.
We love the Sweetly Charming collection for garden parties and afternoon dates. These are fun and feminine projects to work on while you wait for warmer weather. Style them up with a pastel handbag and vintage shoes!
Happy sewing!