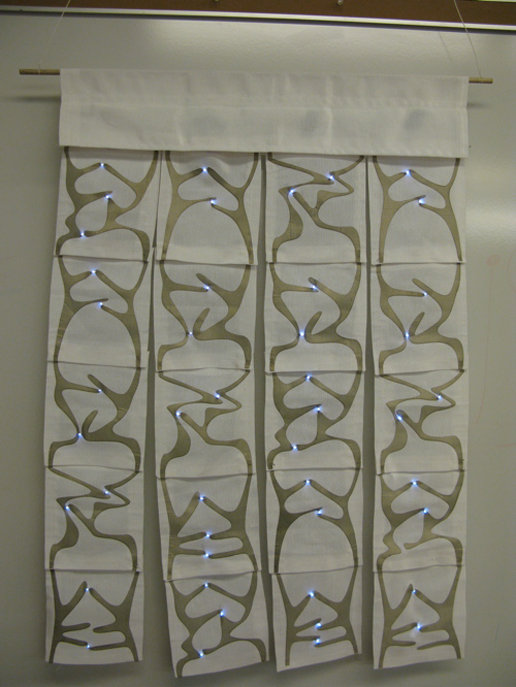 ShareThis
I recently was invited as a guest critic for final project presentations of 'Soft Circuits Workshop', a class at NYU's ITP program that was taught and developed by my colleague Kate Hartman.
For an intense 6 weeks, Hartman met with her students to share her knowledge of making soft circuits, which are essentially circuits composed of flexible electronic components like conductive fabrics and conductive threads. For their final projects, students drew on that which they learned to create some fabulous and very original designs.
Here's a rundown of some of the great projects that were presented:
PpTie – Ohad Folman
Drawing on his experiences of being trapped in boring corporate meetings, Folman decided to create a circuit that would make power point presentations more fun. He hacked a presentation remote, embedding it into a tie. He built soft switches that control the playback of the slides into the underside of the tie. Now when Folman goes to meetings, he can playfully control the forwarding of his power point presentation by grabbing his tie in different places.
Soft Wall Lamp – Alex Kowal
Kowal decided to mix his interest in quilting with electronics to make a modular soft lamp. He laser cut conductive fabric to make beautiful, but functional electronic leads for white surface mount LEDS. Kowal sewed metal snaps (which are conductive) onto the corners of each panel so that it could connect and supply power to the panel below it. The result is a beautiful interactive wall hanging or as his roommate calls it, "Christmas lights for the minimalist."
Suave Lulú – Jennifer Dopazo
Dopazo who's interested in Child Development, made a huggable soft "pet" for preschoolers that provides different types of interaction and feedback when children play with it. The toy, which is covered in a fuzzy green fur, has various buttons that can turn on lights, vibrating motors and sounds clips. Dopazo hopes that the interactive toy will stimulate children's curiosity and help them to develop fine motor skills.
Wimi – Meade Bernard
Bernard created a wearable system of sensors for dancers to control music playback. One of his main goals for the project was to make the electronic components modular so that dancers could easily swap out various inputs like flex sensors, which can read how much a part of the body is bending and accelerometers, which can detect speed and direction of the dancer. Bernard used the Lilypad Arduino to develop his prototype.
During the semester, Hartman gave out other great assignments such as the Super Hero midterm project where students crafted Super Hero-esque soft circuits. Check out the Eyebrow of Doom, by Nicholas Rubin and the Dance Hall Super Queen by Cassandre Midouin. The rest of the class' fantastic projects can be seen here. Thanks to Kate Hartman for inviting me to visit her class!