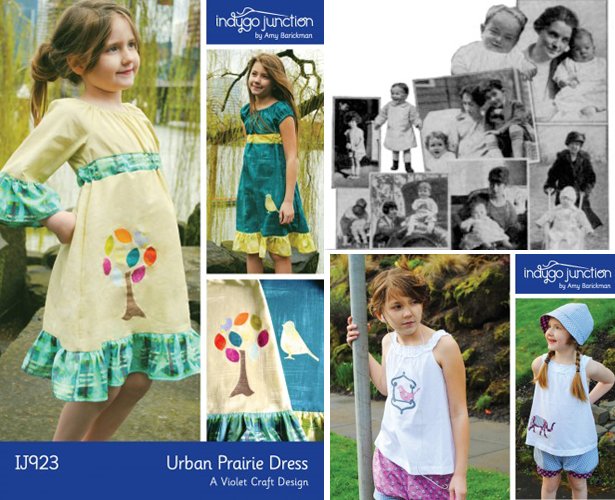 ShareThis
As we continue the Vintage-Inspired, Modern Style Design Challenge, author & designer Amy Barickman talks about how she and her designs at Indygo Junction are inspired by her treasure trove of collected vintage content:
Sometimes the littlest ones in our lives provide the biggest inspiration. Several mothers I know never touched a needle and thread before their wee ones came along. While these women nurtured their newborns, they discovered an eager creative spirit within. Many new moms take up sewing – not just as an outlet or pastime while the baby sleeps – but as a way to spoil their sweeties with handmade toys and clothes.
As Vera Tuman, an instructor at the Woman's Institute of Domestic Arts & Sciences, wrote in 1924, "So many women want to learn how to sew—not for themselves, but for the sake of certain little babes whose smiles—whether real or in fancy—bring hope and happiness throughout some otherwise long, dreary days." The Woman's Institute (1916-1934) educated women all across the country, through correspondence courses, in the "Home Arts"— in a time when secondary education for women was rare.
Years ago, many mothers turned to sewing to cut costs. A student at the Woman's Institute in 1926 wrote of the money she saved by making her child's coat: "The only expense was $1.50 for lining and buttons and I couldn't get another under $12.00." Nowadays, sewing our children's clothes isn't always the more affordable option, but it certainly is the more rewarding and quality option. In this age of Baby Gap and children's boutiques, wee wardrobes can be a wee bit expensive – not to mention these garments are quickly outgrown!
There are many contemporary blogs and books devoted to the work of DIY mommies, but handmade children's fashions are still relatively few and far between. Some of my favorite companies include Oliver + S and Mod Kid Boutique — both started by talented women who weren't satisfied with what they found on the market and decided to do something about it!
Another friend, and Indygo Junction designer, Violet Craft (yes, that is her real name!) has created some wonderful designs for children's clothes with vintage-inspired elements, like the cloche hat. Though Violet has been crafting for years, she admits that it was the birth of her babies that truly inspired her to design for kids. You can find patterns for her Urban Prairie Dress as well as Bubble Shorts, Cloche Hat, and Shoesies on the Indygo Junction website.
Amy Barickman is the founder and owner of Indygo Junction, The Vintage Workshop and AmyBarckman.com. She is a leader in the sewing, needle arts and retail crafting industry having sold more than two-million sewing patterns and published 80 books sold throughout the world. Her recent endeavor is the book Vintage Notions, is already on its fourth printing since its release in September of 2010. Other best-selling titles include Indygo Junction's Button Ware and most recently, Hankie Style.