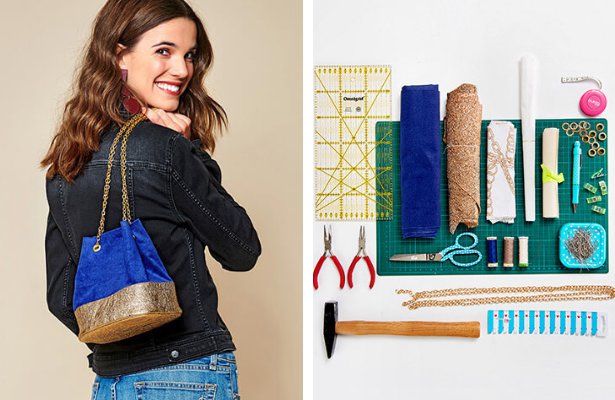 ShareThis
Looks awesome, fits a lot of stuff, and can go anywhere: the small bag now comes out big and is a real statement piece. This one is made of royal blue fine cord and golden metallic leather and is not only suitable for the office, but also for the party. Read on to see how to make.
Images: © Sebastian Sunday & © Jan Schmiedel

MATERIALS:
+ Main purse fabric
+ Leather
+ Cotton fabric for lining
+ Thread
+ Decovil Vlieseline
+ Vliesofix Vlieseline
+ Eyelets
+ Chalk
+ Pins
+ Sewing needle
+ Scissors
+ Pliers
+ Clips
+ Patchwork ruler
+ Link chain
+ Tape measure
+ Cutting mat
+ Hammer
+ Pattern template (download here for FREE)



Step 1: Cut out pieces with 1 cm seam allowance: bottom 1x in leather, 1x in cotton lining fabric. Then also cut rectangles: 58×6 cm in leather, 58×27 cm in outer fabric, and 58×17 cm in cotton fabric.
Step 2: Iron the 58×6 cm cut leather section with the Vliesofix onto the bottom edge of the outer fabric section (58 × 27 cm).



Step 3: Then topstitch the upper edge with the sewing machine.
Step 4: Stitch cotton fabric section (58 × 17 cm) right sides together at the upper edge of the outer fabric at 1 cm. Iron seam allowances on lining material and stitch.



Step 5: Cut the bottom part without seam allowance from Decovil and iron on the bottom part made of leather. Then stitch all around.
Step 6: Then close the side seams right sides together at 1 cm (Attention: see next step).



Step 7: To pull the bag through, leave an opening of approx. 10 cm in the lining.
Step 8: Both parts of the base (made of leather and cotton fabric) should be evenly attached / clipped right sides together around the lower "circles".



Step 9: Then stitch the two bottom parts at 1 cm around the circle part (then cut back the seam allowances to 0.5 cm).
Step 10: Turn the bag through the opening on the cotton lining fabric (Step 7) to the right side. Then sew the opening close by hand or machine.



Step 11: Measure 5 cm from the upper edge, iron and secure. Determine the position of the eyelets (mark them) and hammer them in evenly.
Step 12: Finally, thread the chain through the eyelets and use the pliers to close the link chain.



FINISHED! Fill this bag up with all your necessities and take it with you on your next outing.