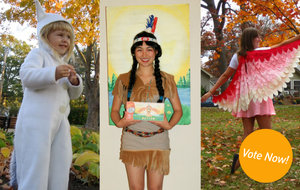 Halloween has passed and it's now time to vote for your favorite costumes!
Voting ends November 8th at 4pm EST and the winner will be announced November 9th in the newsletter and via our blog.
Your favorite Halloween costume winner will receive an awesome prize package including fabrics from Laurie Wisbrun, thread from Mettler, and your very own BurdaStyle "Stitches" T-Shirt!
Check out some of the looks the BurdaStyle Team sported this Halloween weekend….