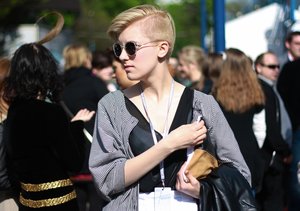 Where are you from and where do you live now?
I live in Lodz, it's a large city in the center of Poland. I have love and hate relationship with this place, it's depressing and inspiring at the same time. I am currently attending University majoring in Psychology.
How did you start sewing?
My mum can sew (she is really good!) and growing up in my home we always had a sewing machine. She stayed at home when my brother and I were younger and she was making a lot of clothes for us. The sound of a sewing machine is one of my childhood memories. My first "creation" was a dress for my plush elephant. I was about seven when I made it. I distinctly remember sewing way too fast, neglecting every rule and braking many needles.