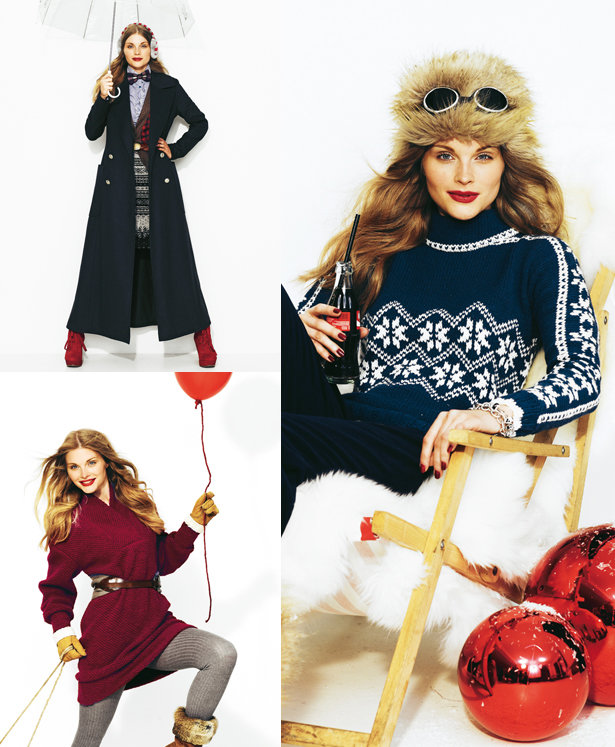 ShareThis
Snuggle up on the couch or hit the slopes in these toasty warm patterns! Sweater dresses, knitted skirts, leggings, and furry accessories are all inspired by a weekend on the slopes. These patterns are from the October 2011 issue of Burda Style magazine. All patterns have updated instructions.
Once you have this squishy soft sweater dress in your closet, you may not want to wear anything else. A bouclé knit is quick to sew and super plush.
Wrap yourself in warmth in a quick to sew draft it yourself poncho and toasty warm boot covers.
Whip up this easy to knit sweater in a flash. It's so warm and comfy, you'll never want to take it off! Dress it down for the ski slope, or wear it to the office with skinny slacks.
A cape is an effortless alternative to a coat, perfect for slipping on when you pop out of the ski chalet to get more wood for the fire.
Bundle up in this fun furry hat. It's totally whimsical and keeps your head toasty warm!
A body-hugging fit and demure ankle length make this skirt a great layering piece for fall. Slip it over a chambray skirt and wear with boots for a feminine fall outfit.
This A-Line Skirt is as comfy and easy to wear as your favorite sweater. Just throw on some tights and a hat and you're ready to brave the chill!
Don't fear winter weather in a chic full length coat. This one has crisp military details and looks sharp in navy wool.
Stay warm and toasty in a patterned Sweater Coat with Tie. The longer length is great for running errands on cold days, or just curling up on the couch.
When you want to be trendy and warm, a patterned sweater dress is the perfect fit. Find knitted fabric in a pattern you love, and you can make this dress in an afternoon!
Keep your leggings in place with elastic stirrups. When paired with an oversized sweater for winter, these pants are chic-er than you think!
These patterns look stylish lounging on the couch on a snowy day, or tucked into snow boots running errands in the cold. You don't have to sacrifice comfort for cuteness in these cozy winter styles.
Happy sewing!