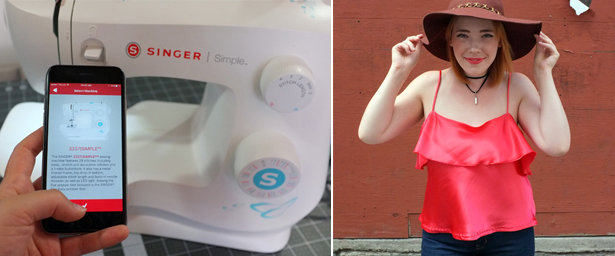 ShareThis
I always love when I hear about new advancements in sewing technology, so when I heard about Singer's new and FREE Sewing Assistant App I was eager to download it and start sewing! This app really helped me sew this satin tank using my Singer 3337 | SIMPLE machine, and guess what? We are giving one away! Read on to see how you can enter to win…
This app is great because it caters to your specific Singer machine! First select your machine and let the app tell you all about it, including what each part is for. We all know when we get a brand new sewing machine it is so exciting to open all of the compartments and see all the little bits and pieces included, and we always ask ourselves… I wonder what this is for? Let the app tell you!
Download the free Singer Sewing Assistant App here
iTunes – Apple
Google Play – Android
Contest entries are through Instagram! Go to our Instagram page here to enter!
After I spent some time reading all about what I can do with my machine, I went on to start sewing my project (which is my favorite thing to do of course with a sewing machine)!
I planned to sew up our Ruffle Tank 08/2016 in a nice but slippery satin, so I selected the Woven Medium option to see how I could best set up my machine.
I switched the needle to the suggested 09/14 and grabbed some scrap fabric to do a little seam test which I always like to do before sewing anything on my actual cut pattern pieces.
I made sure every dial was set to the correct positioning for my satin fabric. For the fabric I used Shannon Fabric's Silky Satin Red and it was a perfect pairing!
I also watched a little video to demonstrate how to sew a straight seam. This feature is just fantastic for beginner sewers, and the best part is that all the different seams finishes have videos so you know exactly what to do. This sure came in handy when it was time to use a stitch that I have never used before! You can see I even tested out putting on the Sew Easy Foot that helps guide the fabric edge at your set seam allowance.
I printed, tiled, and cut out my ruffle tank sewing pattern from my satin. I sewed up a size 38 and cut on the bias! I don't really sew much with bias as it can be finicky, but for this post using the app I wanted to sew something a bit more tricky (and it turned out great)!
the first step in sewing my ruffle tank was to sew those bust darts. I used a plain stitch setting for these. After I was done sewing them, I pressed them downwards so the dart intake was laying towards the hem.
After I utilized the straight seam settings for sewing the main body seams, I switched over to select a seam finish to see what I could do on this machine to prevent my edges from fraying.
I changed my stitch to the Multi-Zigzag setting with the corresponding stitch length and tension recommendations and watched the video to go along with it!
I finished the edges of my side seams this way and didn't even need to use my serger. I really like this stitch, and I used it to finish all of my interior edges. What is great about this app is that it already knows what type of fabric you are sewing with so it gives a suitable stitch setting.
I got all excited and started playing around the some of the other zigzag stitches and thought it could be cool to finish the lower edge of my ruffle/flounce with a smaller zigzag to both finish and hem it! I set my stitch length to 2, and my stitch selector to the narrow end of the zigzag stitches and left my tension the same from my previous multi zigzag stitch. I sewed my ruffle together along the underarm seams, pressed open and working from the right side I "zigzagged" along and I achieved this awesome hem almost similar to a marrow stitch that you do on a serger!
I also decided to finish the hem of my tank before attaching my ruffle. I selected the Blind Hem and learned how to do a blind hem on this machine! This is a stitch that I very rarely use and I haven't for a long time, so I was in need of a refresher.
I set my machine to the suggested stitch settings and watched the video!
I really love the end result, and will definitely use this stitch on this machine to hem silky-satin fabrics in the future. This app taught me a new hem technique that I now love!
Before I sewed the ruffle to the tank I had to sew the straps. I switched back to a regular stitch and sewed them right sides together and pulled them right side out with my handy strap turner.
I pinned the straps in place and sandwiched them in between my tank and ruffle for a clean (and secure) finish on the right side.
I then trimmed, graded, and clipped the seam allowance and understitched to the tank side so I didn't see any visible stitching along the top.
I love my finished Ruffle Tank that I sewed with my Singer 3337 | SIMPLE machine and I couldn't have done it nearly as well without the Singer Sewing Assistant App. I'm more confident in the future using various fabrics since I know the app will guide me on exactly how to set up my machine for success!

See more images of my tank project here
We love this app so much we are giving away the same machine I used to create my tank!
Contest entries are through Instagram! Go to our Instagram page here to enter!
Download the free Singer Sewing Assistant App here
iTunes – Apple
Google Play – Android
… And watch below to learn more about the app.
Happy Sewing!