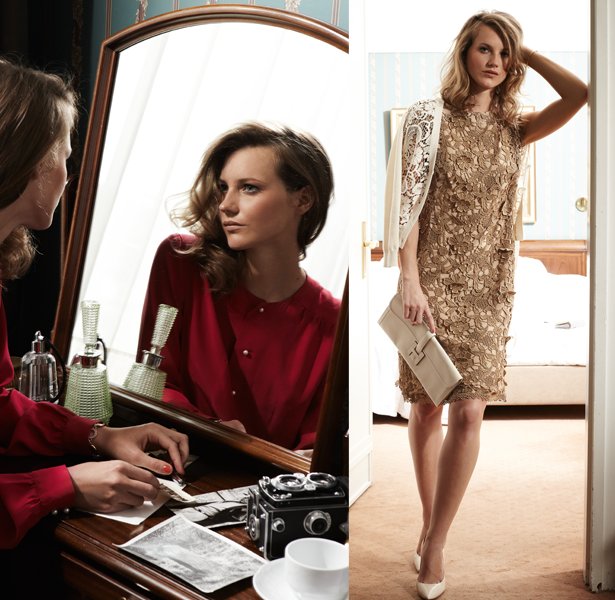 ShareThis
This new pattern collection from the September issue of burda style magazine is definitely a must-see. The seductive charm of elegant 70s-style fashions are made up in muted toned fabrics such as silk, lace and wool. These understated feminine designs are refined and sophisticated and will make any woman feel simply beautiful.

This is the classic Shirtwaist Dress that is so stunningly refined and sophisticated. The front edges are held in place with a few handstitches to create the effect of a small lapel.

This Silk Blouse has subtle elegance, as the matte side faces out. We love the other fine features of this blouse like the doubled yoke and the small pearl buttons.

This Lace Dress is so feminine. Slightly fitted at the waist, and with short sleeves, this simply-cut dress is nevertheless eye-catching. The particularly striking lace fabric also lends a touch of luxury to this design.

This Inverted Pleat Skirt may be simple in design but it still has that certain something. This skirt made from brushed wool indulges the senses with its decorative front inverted pleat. We think it is a great base skirt to have in your wardrobe.

This soft and cuddly wool herringbone Trench Coat is the perfect companion for a stroll on the town. With horn buttons, raglan sleeves, loose yokes, and shoulder tabs, it has the typical features of a classic trench. The tie belt on this double-breasted coat is also a must!

This outfit is simply chic! The pretty Leather Trimmed Skirt extends the line of any outfit, and creates a slim silhouette. Simply cut, it captures attention with its leather binding on the waist and hem edges. It is paired with the surprisingly striking Jersey Top that features trendy shoulder yokes in a contrast fabric.

Have left over fabric? Why not make a matching crossover bag. Follow the tutorial for a perfect little lace bag to take out on the town!