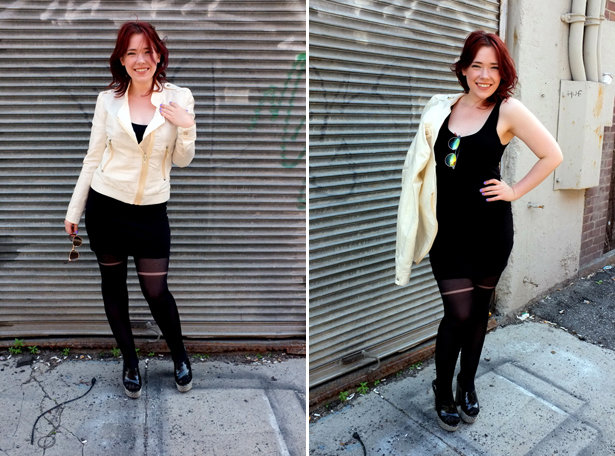 ShareThis
I made and finished this jacket a couple weeks ago from our Silk Motorcycle Jacket. This was definitely my toughest sewing project so far in 2014 and I'm so happy with the way it turned out! My past jackets that I have made in the last little while have been out of stretch fabrics like double jersey and stretch leather, so it was fun figuring out and fitting this jacket.
This jacket pattern called for a raw silk, and I bought just that. I loved the organic look that the raw silk had and I decided to purchase it in a cream/oatmeal color, which is just perfect for a summer jacket. The fabric is nice and lightweight and I have been wearing it a lot lately especially after the sun goes down because it gets a little chilly here at night and it is so much more fashionable than a cardigan!
To add to the style of the "motorcycle" jacket, I added silver studs wherever the pattern indicated a button and buttonhole to be. And the silver exposed zippers matched perfectly to the jacket and to my style.
I actually made this jacket initially because of our recent interactive sew along, and I was producing all the videos to correspond with each session. This jacket may look tricky to sew, but once you break down the steps you'll find everything comes together really neat. View more images of my jacket here.
For summer this motorcycle jacket can be made is a raw silk (line mine) or even a light weight denim. I also suggest sewing up this jacket in a faux leather or suede, how fab would that be.
Have any of you tackled any motorcycle or summer jacket so far this season? Link the project in the comments, I would love to see them!
Happy Sewing,
Meg