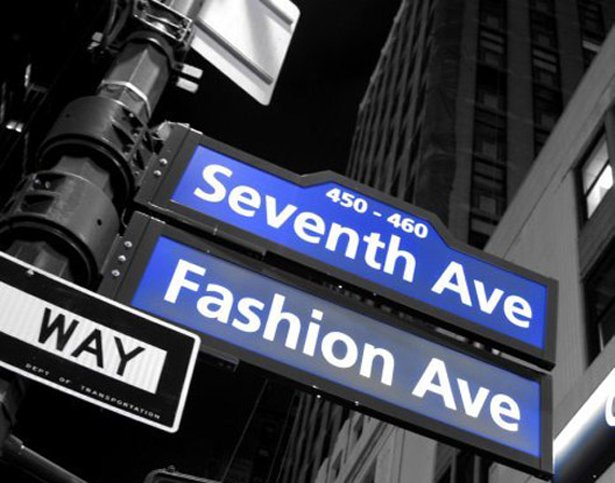 ShareThis
Despite reports of its imminent demise due to clothing designers and manufacturers moving production overseas, New York City's Garment District is still the best place in the world to shop for fabric, trims, notions and everything else sewing- and craft-related. I shop there two to three times a week and write about it for my web site Shop the Garment District, but I still manage to discover something new and exciting every time I'm there. BurdaStyle asked me to share my Garment District store recommendations with you, so I've put together three shopping itineraries that can be accomplished in an afternoon or a day. Addresses, store hours and a map are all available on Shop the Garment District.
Shopping Trip #1 – for Aspiring Designers/Fashionistas
Mood Fabrics: Because you've seen it on Project Runway and because they have everything; it's like the anchor department store of the Garment District. Celebrity sightings entirely possible.
B&J Fabrics: Come here to expand your fabric knowledge and fantasize about the gown you'll make to wear when you walk the red carpet. You can spend $1,000 a yard on feather-trimmed, embroidered organza, though there are plenty of fabrics within most budgets.
Paron Fabrics: A smaller, well-edited store that's a Garment District mainstay. Helpful and friendly staff is generous with their time and their fabric cuts. Not so overwhelming as Mood or B&J, plus you can get great deals in their sale section. Burda patterns and BurdaStyle magazine sold here.
M&J Trimming: Visit this store to embellish your garments like a designer. All kinds of trims, ribbons, buttons, appliqués and more. An inspirational fantasy of a store.
Pacific Trimmings: It gets a little crazy at times, but if you're looking for fabric-covered jumbo snaps, petersham ribbon, Riri zippers or hard-to-find hardware you'll put up with designers' assistants negotiating deals for grosses of brass snaps and other things.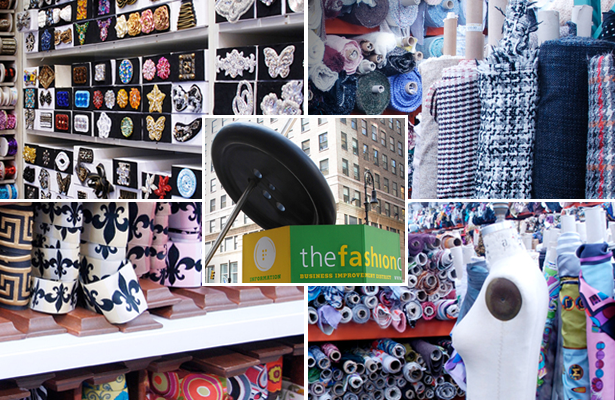 Shopping Trip #2 – for Frugal Fabricaholics
W. 39th Street between Seventh and Eighth Avenues: If it's bargains you want, then concentrate on this block, where FIT professors have been known to direct their cash-strapped students. Helpful traits for shopping here: a sense of adventure and the ability to maneuver through narrow aisles of fabric bolts likely to fall on you. If you're willing to overlook all the tacky-sparkly fabric, you can walk away with some amazing finds, like silk velvet for $10 a yard or wool doublecloth for $12 a yard. Chic Fabrics, Fabrics For Less, Weaver's and G&R Fabrics are the stores where you're bound to have the best luck. Daytona Braids & Trims has excellent prices on embellishments, and though you aren't likely to score any deals here you can pick up all the dressmaking supplies and notions you need at Steinlauf & Stoller.
Shopping Trip #3 – for Chain Store Refugees
The Whole Garment District: If you live in an area where your only option for buying fabric, trims and craft supplies is the local chain store, then you need to devote an entire day to the Garment District. Wear your most comfortable flats, take a wheeled shopping bag, and be at Mood Fabrics on W. 37th when it opens at 9 a.m. Next, staying between Seventh and Eighth Avenues, hit the stores on W. 38th, W. 39th and W. 40th Streets. Head east to M&J Trimming, and circle back and visit the stores I recommend on W. 36th and W. 35th. Collapse happily from exhaustion and fabric overload.

Meg McDonald has been sewing ever since she made a peasant blouse at age 12. She writes about the wonderful fabrics, trims and notions NYC's Garment District has to offer at Shop the Garment District, an online guide for sewists and crafters. Meg shares her personal adventures in fashion sewing on her blog, Lindsay T Sews, where she readily admits she still has "what was I thinking?" moments when it comes to some of the things she makes.