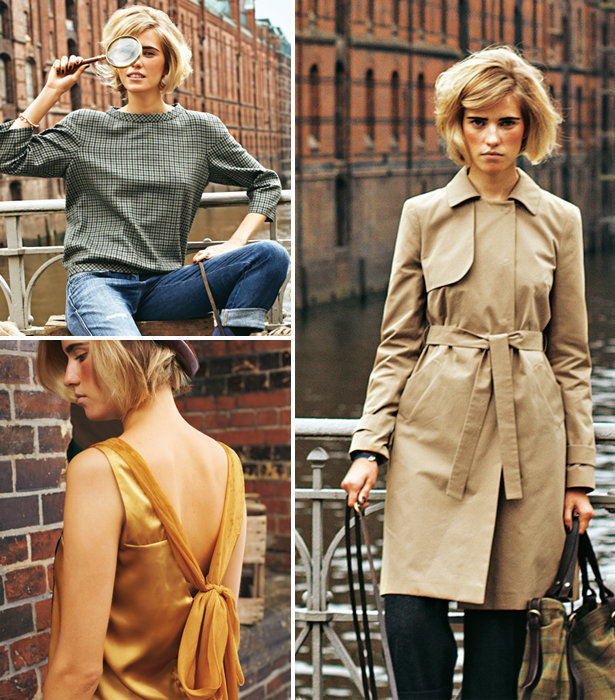 ShareThis
This collection from the December 2011 issue of BurdaStyle might be "old" but we have plenty of new patterns for you, including a handfull of FREE DIY patterns! Check out classic cullottes, trench coats and a few cozy treats for the 'Watson' in your life!
Click the pattern image to go to the pattern store page…
These slim-fit bermuda shorts are made using a wool crepe fabric and feature a shaped, rolled-up hem and front darts.
This classic trench coat cotton features a loose shoulder yoke, concealed placket and back pleat.
These classic cut trousers feature creases, a shaped waistband and hip pockets.
This beautiful wool blazer features a wide shawl collar, two front flap pockets as well as front and back darts. Wear open or close with a button.
This shirt from woolen fabric with oblique thread run with sleeves in three-quarter length and narrow waistband.
This v-neck tank top features twisted shoulder straps and a slim fit. Great for making in a number or fabrics to pair with/under anything and everything!
This satin tank features a deep v-neck and a deep v in the back for a sexy look as well as twisted shoulders. Pair with nice trousers or a pencil skirt.
This fun satin blouse features a deep v-neck, which is met with a large front bow that is a real eye-catcher! It also features a tie in the back and long sleeves. Pair with slim trousers for a holiday party!
This pleated skirt is perfect for cold weather as it is made out of leather and can easily be paired with wool tights and a sweater. It closes with a zipper in the back.
More than just your average tank top! This elegant satin tank top features thick shoulder straps and a deep V in the back, which it met with a loosely tied chiffon bow. Do as the fashion image does and add interest by mixing fabrics and colors.
These wool herringbone culottes feature front pleats and cuffed hems.
These wool herringbone culottes feature front pleats and cuffed hems.
Create your own dog collar using sturdy fabric, a clasp and a metal ring.
Make this super easy drawstring pouch for all your carry-all needs including toys and treats for your 'Watson'!
DIY phone case!
DIY knit purse with handles. Perfect winter carry-all!
Happy Sewing!