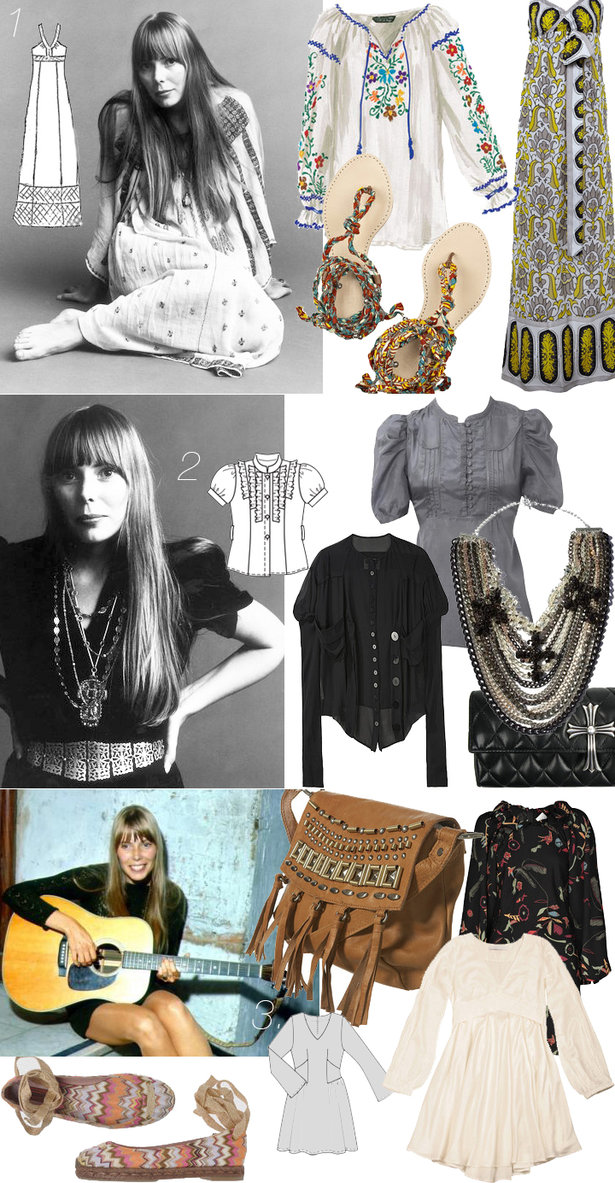 ShareThis
Is anyone else a Joni Mitchell fan? My boyfriend just bought me Shadows and Light The Definitive Biography of Joni's life, written by Karen O'Brien, and I was pleased to learn that while in college Joni wrote a fashion column called "Fads and Fashions" sharing with her peers how to wear certain clothes and what was in vogue. I wish I could see some of these articles!
Today, my collage is inspired by Joni's wardrobe. I've found some beautiful old pictures of her from the 60s and 70s and matched some of these looks with accessories and sewing patterns we have available on BurdaStyle.

1. Long, flowing dresses were staples of the 60s and 70s. I'd love to make one in an embroidered or embellished fabric and pair it with beaded sandals.

2. Puff-sleeved blouses will always be feminine and beautiful, while adding an edge to your silhouette. You can also soften this look by making the JJ blouse in a pastel for spring- or dress up your decollete with chains and necklaces.

3. Bell sleeves and A-line flair make for an adorable dress, and our pattern offers a at the back. You can make it in a vintage print a la Missoni, be ethereal in white lace and velvet or use this pattern to create the perfect little black dress.