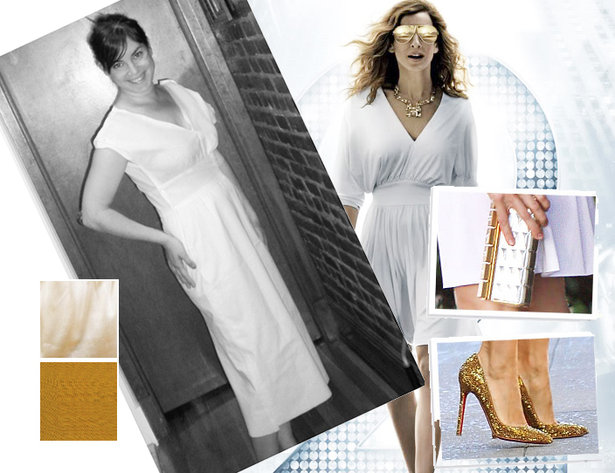 ShareThis
Last week I wrote about how I am designing a dress for a friend to wear to a movie premier in May. Elyse had her first fitting for the dress on Monday and we're moving along…
Here is what Elyse said about this project:
I'm looking for a dress to wear to the Sex and the City sequel premiere. My sister is the assistant to the director, and I am her date! Since we will be walking the red carpet and rubbing elbows with the major players in the film throughout the night, I want to look and feel fabulous- but elegant and not over the top- simple, but sexy, and formal. I recently had a baby (8 month old Lola), so I want to draw attention away from my belly, child-bearing hips and larger-than-usual bust. I'd something with a low V in the front (and possibly the back), an empire waist, and an A-shape skirt (pencil skirts make me look like I could have another baby tomorrow). I'm thinking about wearing a necklace made by a Brooklyn designer (Brenda Zheng) that is made of gold spray-painted lace, so I don't want to go too crazy with the dress color. I lived in Japan and love kimonos, so a dress with a band under the bust would be a plus. I want to feel flowy, not confined. I'm open to dress length, too.

After the first fitting (pictured above on Elyse in muslin) we realized we needed to add some more volume to the skirt of the dress. We'll slash & spread the skirt pattern at the waist to add fullness. The plunging v- neckline looked great on Elyse. After going through the hammered silk swatches, Elyse was thinking of having her gown made in the ivory colored hammered silk and making the band at the waist in gold silk. I think this will look chic and fresh, and Elyse's love of Japanese silhouettes will be fulfilled with a complimentary colored band at the waist.

More work to do before the premier May 24th!