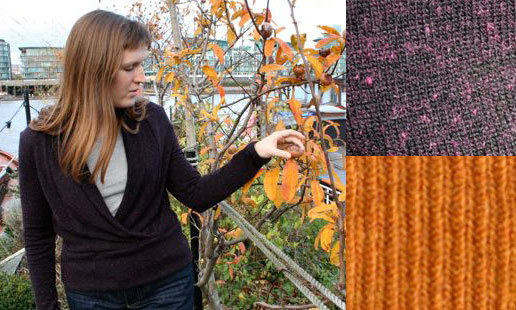 ShareThis
We've had some really great warm winter pattern recently, like the Amy sweatshirt for girls, the Amin sweatshirt for guys, and most recently our newest cardigan pattern, but if you're tired of sewing with fleece and sweat shirting, you might want to consider sewing with sweater knit instead. Sweater knit is made on large knitting machines so it comes in large pieces like other types of fabric, but as it's knitted together instead of woven, it has a tendency to stretch and unravel as you sew it. The great thing about sweater knits is that you can make a lovely warm sweater in a fraction of the time that it takes to knit one by hand!
You've already learned how to sew with heavy rib knits from this How To, but here are some other tips I learned when I was sewing my first sweater recently (seen in the image above!).
Use a narrow zigzag stitch for all seams (or a wide 4 thread overlocking stitch if you've got a serger)
Bind seam allowances (hong kong finish) to avoid fraying and unravelling if you've not got a serger
Cut pattern pieces with larger seam allowances than usual if your sweater knit is prone to unraveling (test for this by stretching and abusing a scrap first!)
Loosen the presser foot tension (usually on the top left of your machine) to avoid stretching the seams as you sew
Use a walking foot if you've got one to avoid slipping layers
Be aware that lots of sweater knits love to shed fluff so have a vacuum and lint brush at the ready and clean your machine frequently to avoid thread snarls!
When choosing a pattern for your sweater knit, try to stick to simple styles – lots of pleating and gathering gets very buiky very quickly

reinforce shoulder seams with twill tape to avoid stretched out, baggy shoulders

And as with all fabrics, be sure to prewash sweater knits before cutting so you don't end up with a shrunken croptop after your first wash!