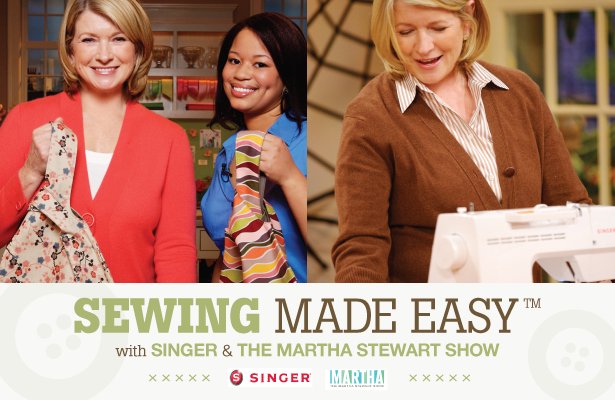 ShareThis
Each month Singer Sewing Company hosts a sewing class for the employees at Martha Stewart Living Omnimedia (aren't they lucky!). For our third installment of SEWING MADE EASY™ how-to video series, one of those employees, Jamila Jordan, joins Martha to show off how to make a super cute reversible purse using the SINGER® Curvy™ sewing machine. The template and instructions for this adorable bag are available here so you can whip up your own version at home!

For your chance to win a SINGER® Home Essentials™ SteamWorks™ Pro Iron, let us know in the comments below: what was your first sewing project? And don't forget to comment to win on videos from the last two weeks here and here! You have until 9am on Monday, January 31st to get those comments in!
SINGER is sewing made easy™. To learn more about SINGER sewing machines and SINGER retailers, click here!
Tune-in to The Martha Stewart Show, airing weekdays at 10 a.m. ET/9 a.m. CT on Hallmark Channel.
SINGER, the Cameo "S" Design, MODEL NAME, SEWING MADE EASY and SINGER IS SEWING MADE EASY are exclusive trademarks of The Singer Company Limited S.à r.l. or its Affiliates. ©2011 The Singer Company Limited S.à r.l. or its Affiliates. All rights reserved.