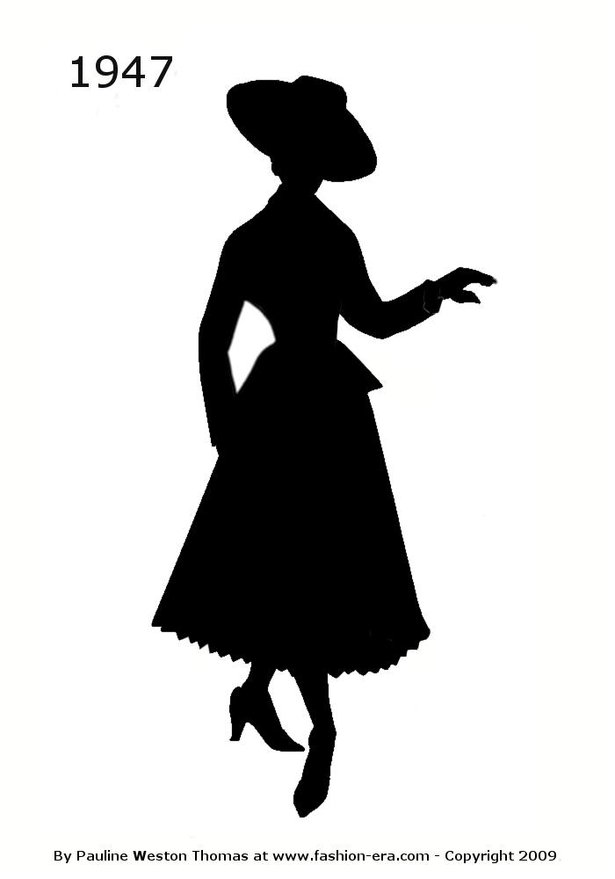 ShareThis
{image courtesy of www.fashion-era.com}
There was a fashion article on Jezebel over a year ago that's really stuck with me:
"Practical Tips for Personal Style Or, Why Not to Listen To Women's Magazines."
This post was so interesting to me as a vintage fashion lover because Sadie, the writer, posited that the key to finding your personal style was finding the right fashion era of the 20th century for your body. As she wrote, "If you go through the major fashion eras of the 20th C, you'll see that different silhouettes and body types were in vogue. Find the one that matches you . . . Skinny? 20s and 60s. Curves? Go for 50s, sexy 70s or 80s."
It's an intriguing idea, but not without its own problems—the biggest of which is that silhouettes varied wildly within any given decade. Just look at this awesome web page, which charts the silhouettes of the 40s alone. But I do think there's a good kernel of truth for the home sewist here—when you're first starting out sewing vintage, it can be incredibly helpful to narrow your style and construction preferences down to one single era. After all, there are a dizzying array of vintage patterns available, and it can be confusing if you're not very familiar with fashion history of the 20th century. Here are a few silhouettes I've narrowed down for the home seamstress.
• Are you a wild child at heart with a boyish build? Maybe you're a 20s gal.
• Do you dream of old Hollywood glamour with bias cut gowns and slinky charmeuse dresses? Look at the 30s.
• Do you like simple knee-length a-line skirts and feminine blouses with peplums and gathered details? Look at WW2 era 40s.
• Do you want a dramatic look with a corseted waist, huge skirt, and full bust? Try Dior's New Look of 1947.
• Do you love full, swishy skirts with lots of body? You're an early 50s girl.
• How about a Joan Holloway silhouette with tight pencil skirts and cute little bow-tied blouses? Try the late 50s.
• Crave a mod shape with a-line minis? Mid to late sixties, baby!
• Do you like menswear looks, complete with neckties and fitted blazers? Go for an early 70s Annie Hall vibe.
I hope this helps you find your perfect era of vintage sewing. But perhaps you already have. Do tell: what's your favorite fashion era?