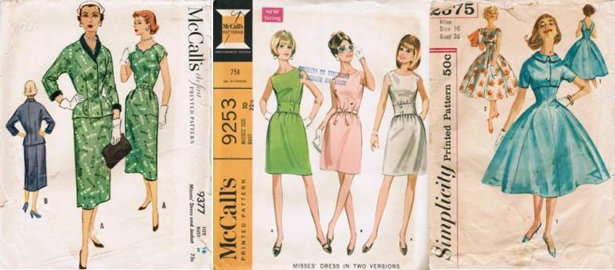 ShareThis
Hello everyone, and welcome back to Sewing Vintage! Through writing my blog, I've realized just how intimidating the world of vintage patterns can be. The prices vary wildly, the sizing is different from contemporary patterns, and the styles can be very intricate and complex. Not to mention how different the patterns themselves are: the instructions are much more abbreviated than today's patterns. And some pattern tissues are even unprinted, meaning you only have perforated holes to guide you, rather than the nice black lines and symbols that we have now.
So, how to make sense of all this? Here are a few things to keep in mind as you start to navigate the wonderful world of vintage patterns.
1. Style.
Choose a simple style to start out with, like a basic sheath dress or a pencil skirt. It helps if it's similar to a style you've sewn before so that you're not completely new the construction process. Also, start with a pattern from a decade that is stylistically simple, like the mid-50's though early 60's. These years were generally about clean lines and not too much fuss, unlike the bowties, peplums, and rows of buttons that you see in patterns of the 40's. Think career girl attire from Mad Men.
2. Sizing.
Vintage patterns are generally sold by bust measurement, so get an accurate one. Start with a pattern the closest you can find to your measurements. It can be heartbreaking when you fall for a pattern that's several sizes too small or big for you . . . but save the complicated re-sizing for later. (In the meantime, that pattern will probably pop up in just your size!)
3. Google Alerts are your friends.
If you do get your heart set on a certain pattern but can't find it in your size, set up a Google alert for it. Patience pays off!
4. Find your favorite online pattern dealers.
I order the majority of my vintage patterns from eBay and Etsy. Pay attention to which sellers you think offer fair prices and have a good selection. Once you develop a relationship with certain dealers, you can even ask them to keep an eye out for you if there's something you're looking for. (Tip: all three of the above fab patterns are currently for sale from one of my fave Etsy sellers, Midvale Cottage.)
5. Buy a good vintage sewing book.
The instructions on vintage patterns can feel incomplete compared to today's. The pattern companies simply assumed you knew more about sewing, and therefore didn't walk you through every step, like patterns do now. Vintage books are helpful because they describe techniques in the same jargon that you'll see in your vintage patterns. One of my favorites is a 1960's edition of the Vogue Sewing Book and I also love Constance Talbot's Complete Book of Sewing from the late 1940's. (Alibris.com and eBay are great places to find vintage sewing books.)
6. Don't rule out reissues.
All of the "Big 4" pattern companies reissue select vintage patterns from their lines to put out in modern sizes with updated instructions and sizing. If you wear a hard to find size, these can be a goldmine. Also, check out the company Decades of Style which reproduces vintage patterns in a wide variety of sizes.
7. Fit.
And last but not least: when you've selected the perfect pattern, spend plenty of time getting the fit right. Fit is everything! Check back next week for a post on the most common alterations needed for vintage patterns. In the meantime, you might want to check out a book on pattern alterations to get your skills up to the task. I recommend Fit for Real People.
Have a missed anything? Also, what are your tips for locating great vintage patterns?