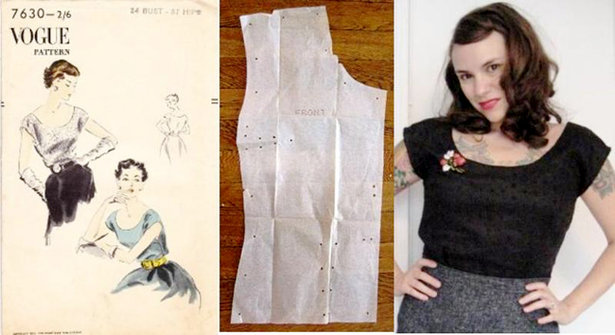 ShareThis
Welcome back to Sewing Vintage! This week I'm going to talk a bit about an aspect of sewing vintage that often scares people off: the unprinted pattern. This means that instead of having clear black lines and symbols on patterns (as we do today), patterns from the early 20th century were marked with little perforated holes, like the middle image above. It can be disorienting at first, but do not fear! Unprinted patterns are nothing to be scared of, and you'll be glad you took the plunge. I work mostly with Vogue patterns from the very early 1950's, and sewing patterns at this time were still all unprinted. In the images above, you can see a pattern envelope for one of these patterns, what the pattern tissue looks like, and what the garment looks like sewn up.
The first thing to realize about the perforations on unprinted patterns is that they were meant to be used with tailor's tacks, rather than a tracing wheel and paper like we usually use today. The perforations make a lot of sense for tailor's tacks, because you can just make your thread loops right within the perforated hole. But there's also an easier way: just use a piece of tailor's chalk to color in each hole on the front side, then stick a pin through the hole to mark it on the back. I have a tutorial for each method on my blog, which you can see here.
Tip: use a different color chalk or thread for each type of perforation. For instance, use yellow for your darts, blue for large squares, etc.
I think the most difficult thing about working with unprinted patterns is understanding which symbols are worth marking on your fabric, and which aren't. For instance, as you can see in the image above, the seam lines are all marked with a perforation, and there is no way that I am marking all of my seam lines with tailor's tacks. So I just ignore those. I also don't mark hem lines, because I prefer to mark my own hem line after I try the garment on. I would recommend reading through your pattern instructions to see which marks are going to be crucial for putting the pattern together, and focus on marking those. As a general rule, you'll find that you need to mark darts and any large triangular or square perforations, which indicate buttonhole placement or where two pattern pieces fit together.
Then there are the perforations that don't need to be marked, but are important for cutting and fitting purposes. The two more important instances are:
1) Two large vertical circles that indicate that a piece should be cut on a fold.
2) Two small horizontal circles that indicate the waistline. Use this for fitting purposes, to determine if your pattern needs to be lengthened or shortened.
Because I wanted to show you the practical side of working with these patterns, I've put together a photographic how-to on my blog to help you.
Enjoy, and please let me know if you have any questions!