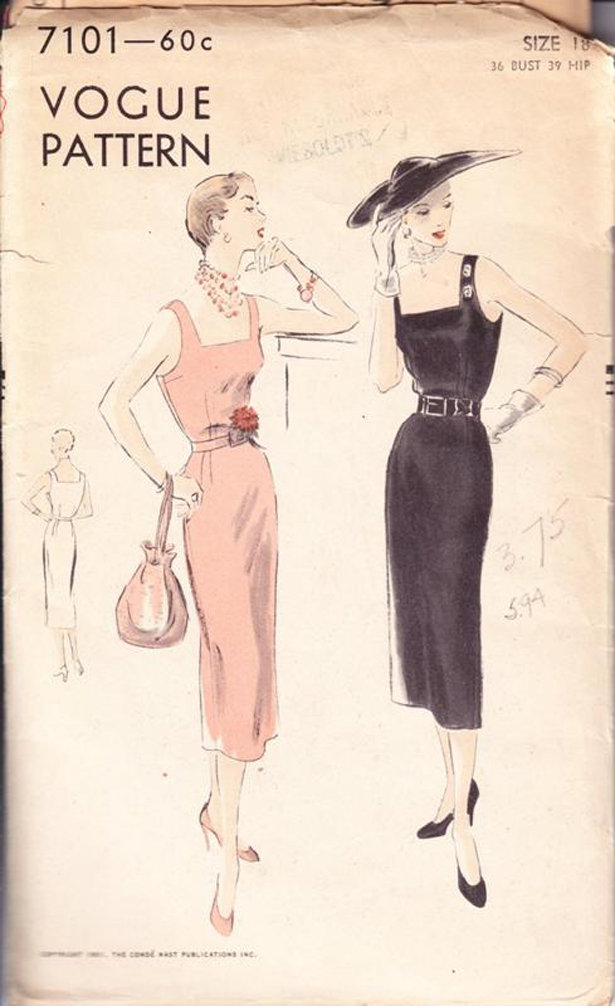 ShareThis
Hello everyone, and welcome back to Sewing Vintage! This week I'm going to tell you about three of the most common pattern alterations needed for vintage sewing patterns. Personally, I like vintage style but I like the fit to be modern. So I make several alterations for a cute contemporary look, as well as for ease of wearing without vintage foundation garments like bullet bras and girdles.
All of these changes require that you start with some sort of fitting step. This can be a tissue fitting, a basted fitting, or a muslin. (Check out the book Fit For Real People for help with all this.) Making a muslin wasn't a common practice of home sewing until recently, so the method used would be to tissue fit the pattern, and then machine baste all darts and seams for a basted fitting. Making a muslin never hurts, though, and it will ensure a perfect fit every time.
Once you've got your fitting garment, be sure to check out these three issues (along with any other regular pattern alterations needed for your figure):
1. Shortening hemlines. 50's and late 40's style was all about tea-length, which is that awkward length that hits you mid-calf. See the above sheath dress pattern? It is VERY rare to see this in today's fashion, and unless you're going for a truly authentic period piece, you'll probably want to shorten your skirts to knee-length. I recommend going into your closet and measuring skirts you already own to find your ideal length.
Tips:
-If your skirt is straight, all you need to do is whack off the excess length at the bottom, being sure to take into account whatever hem allowance your pattern calls for.
-If your skirt is flared, you'll want to retain the shape at the hem. So simply take a tuck out of the middle, near the hipline, that equals the amount you want to shorten the hem. Redraw the side seams with a ruler so that they're straight.
2. Lowering bust darts. One common fitting quirk on vintage patterns is that the bust darts are almost always too high, probably due to silhouette created by bullet bras. You can see this in action on the sheath dress illustration above. See how the underarm dart sits just a little higher than the fullest part of the bust? Today, a more natural bust line silhouette is usually preferred, so you'll want to lower the darts so that they are level with the fullest part of your bust line.
Here's how I do this. I try on my muslin or basted garment, and mark the point where I want my bust dart with a pin. Then take off your muslin and measure the difference between the original dart and the point you marked. Then make your changes to the pattern or on your muslin: If I figure that a dart needs to be lowered an inch and a half, I use a clear gridded ruler to mark down an inch and a half from the point of the dart. Then I repeat with each leg of the dart. Draw in the new dart lines with a colored pencil.
3. Widening waist and hip seams. Vintage patterns are generally sold by bust size, but it's likely that you'll find that the size that fits your bust won't fit your waist and hips, especially if you don't plan to wear a girdle!
A bust 34" fits me in the shoulders and bust, but is way too small in the waist and hips, so I just add width there. You don't need any fancy techniques to do this, you just need to re-draw the side seams to make them bigger (since it's only one size down, adding width won't throw off the darts and seam lines too much). Here's an example. If the pattern is made for someone with a 26" waist and my waist is 29", I know I need to increase the waist by 3 inches to fit me. Note that this is 3" all around, or 1-1/2 inches on the front and 1-1/2 inches on the back. This equals 3/4" per side. So you just mark a spot 3/4" out from the pattern waist, and draw a new line down the side seam. Now, repeat this for the hips.
And there you have it!
P.S. If you would like to see the above sheath dress pattern made up with all of these changes in action, check out my version here!