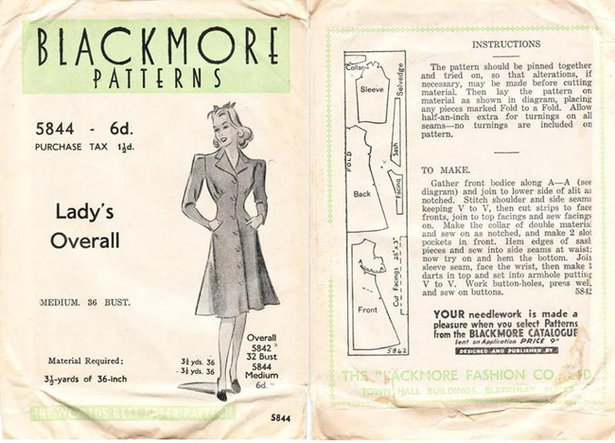 ShareThis
How often have you wished that a modern pattern had better, longer, or clearer instructions? Well, believe it or not, today's patterns are tomes compared to eras past. I recently bought this fabulous "Lady's Overall" pattern from the 1930's, and was fascinated by the brief instructions.
As you can see in the image above right, all of the instructions are on the back of the envelope – there are no inserts included. It's a mere paragraph! Just check out this sentence: Make the collar of double material and sew on as notched, and make 2 slot pockets in the front. Anyone who's even sewn a convertible collar and made welt pockets knows that a little more instruction than that is required!
Since the 1930's, instructions have become more and more detailed. My theory is that as women moved further away from domesticated lives, patterns required more instructions. Sewing skills were no longer a birth rite passed on from generation to generation. You couldn't just ask your mom or grandma to teach you how to make slot pockets anymore.
My Vogue patterns from the early 1950's fit into a small, single page and can be terse, but they do have illustrations. In the late 60's (women's lib time!), you start seeing the introduction of "Learn to Sew" patterns, which were meant to teach you to sew as you made a garment. No previous knowledge necessary!
Instructions today are lengthy—often needing several large double-sided sheets of paper. And each step is illustrated. But is this necessarily a good thing? Pattern companies are required to write instructions that appeal to a wide level of skill sets. Often, this means the instructions take short cuts rather than showing couture methods. When sewing any pattern, vintage or contemporary, I think the best thing you can do is arm yourself with a comprehensive sewing book, and make sure the methods described in your instructions are really the best way to do something, not just the easiest. Knowledge is power, baby!
P.S. On another note . . . I'm having a contest this week on my blog inspired by the most hilariously heinous pattern I've ever come across. It truly has to be seen to be believed. So click here to have a peek and to make your entry for "Most Awesomely Bad Pattern EVER." Hope to see you (and your awesomely bad patterns!) there.