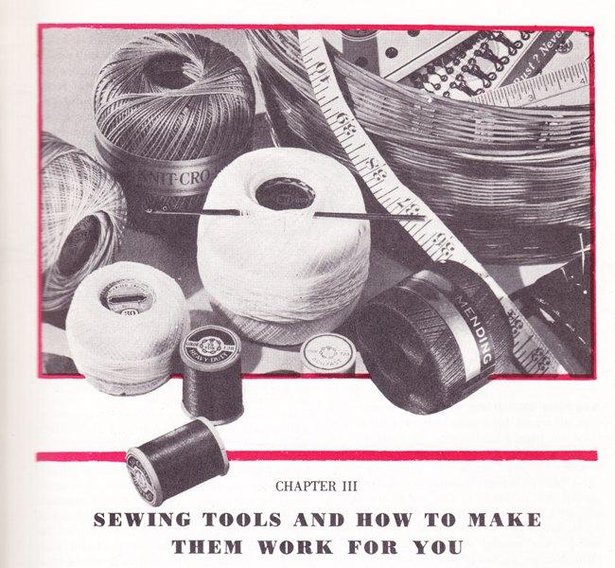 ShareThis
Sewing Vintage: My Essential Supplies
The supplies needed for sewing vintage patterns are generally the same as for sewing contemporary ones. But ever since I've been concentrating on vintage patterns, I've noticed that there are some items that have come in especially handy. Here's a run-down!
1. Swedish Tracing Paper. Vintage patterns can be very fragile, and some people recommend tracing all of your patterns to preserve the original. I don't always do that, I confess. But if you buy a pattern that is brittle or easily torn, it's a good idea to do this. Also, if you know you'll be making alterations, have a traced-off copy makes it all the easier. Simply trace all your pieces, and remember to transfer your marks. I love Swedish tracing paper because it's supple enough that you can do a test fitting with it. You can even sew through it if you want!
2. Bias Tape Maker. Vintage patterns only very rarely include patterns pieces and directions for lining. While it's pretty easy to figure this out on your own, I often leave dresses and skirts unlined and wear a pretty vintage-inspired slip instead. I find this to be more economical – no need to buy all that lining fabric! But it's nice to finish your seam allowances with bias tape for a lovely interior look, especially in a contrasting solid color or even a fun print. A bias tape maker makes quick work of this.
3. Muslin. You don't always need to make a full muslin, but it's a great idea to make a bodice muslin of your vintage patterns. Especially with patterns of the 50s, the bodice fit is something that you'll probably want to adjust for a modern look. I usually need to lower bust darts and shorten the waist, since I don't wear a longline bra to get that long-torsoed bullet bra silhouette that ladies in the 50s coveted. Making a bodice muslin first ensures that I'm happy with the fit, so I keep plenty of muslin fabric on hand.
4. Silk Thread and Beeswax. You'll find yourself using tailors tacks and doing a lot of hand-basting with vintage patterns. Silk thread is the best for hand work like this, and with a coating of beeswax, it's perfection. It won't tangle, and it runs through fabric beautifully.
5. French Curve and a Clear Gridded Ruler. I've found that hemline shortening and neckline adjusting is de rigeur with vintage patterns. A clear gridded ruler makes shortening a pattern piece easy, and a French curve is perfect for redrawing neckline curves.
6. Scotch Tape. I'm always adding width to my vintage pattern pieces, it seems! Especially at the waistline and hips. Once I have a pattern piece traced off onto my Swedish tracing paper, it's easy to add extra width by simply taping it on.
So those are my must-haves for working with vintage patterns. Have any of your own?