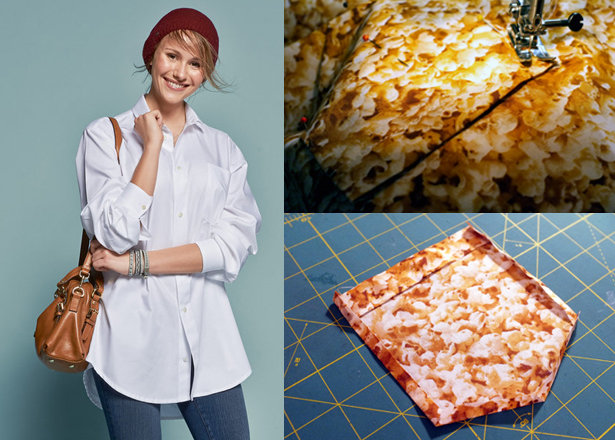 ShareThis
I have recently been making a lot of men's button up shirts, and that means a lot of patch pockets for me! I thought I would share my no fail process of stitching on a patch pocket. Check it out.
The first thing I do after I cut out the patch pocket is press the top edge to the wrong side 1/4". Then I press the edge under another 3/4". I take it to my sewing machine and topstitch 1/8" or so up from the folded edge on the wrong side. I always do this stitch from the right side of the fabric so I can make sure that the stitch is parallel and even distance to the top fold.
When my initial topstitch is in place I then go back to my iron and press all my other outer edges towards the wrong side 1/4".
Now it's time to place the pocket on the right side of the pattern piece. This particular pattern piece did not have an indicated patch pocket (I self drafted it), in this case I use the rule of about 2" up from the underarm and 5-8" away from the side seam. The first pin I place is right in the center of my pocket, pinning it straight to the front bodice piece. I place some more pins around the perimeter as well to secure down the pressed and folded edges.
Refer to the diagram below about where to stop, start, and pivot when topstitching around the edges of the pocket. I always stitch the small triangle in place because it makes the pocket more durable and also makes the garment look more professional.
After I stitch around the edges of the pocket (I do about 3/16" – 1/8" away from the outer edges), I give the pocket a final press on the garment to make sure it lays nice and flat. Then that is all to an awesome looking and easy sewing patch pocket!
And yes, that is popcorn printed cotton…I am sewing another men's novelty button up shirt, they are just so fun to make!
Try out this technique on any of these patterns with patch pockets. Our Hidden Closure Blouse is sleek and simple, and would look great with those patch pockets in a contrast fabric! Try your hand at menswear with this classic Men's Chambray Shirt, or you can get that boyfriend fit and style with this loose fitting Pocket Shirt. If your top or blouse has no patch pocket, it is so easy to draft one yourself! Simply draw the pocket shape you want on your pattern, trace off, and add 1" seam allowance on the top and 1/4" on all other edges.
Happy Sewing!
Meg