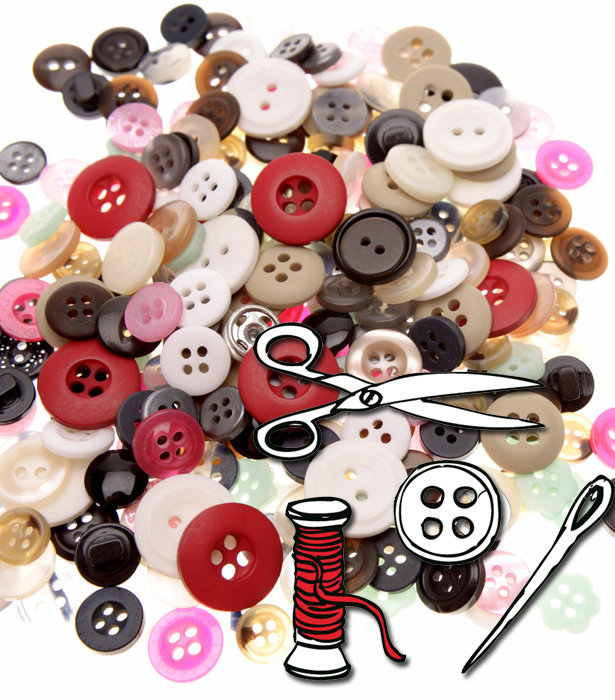 ShareThis
Sometimes as experienced sewers we forget the small details, like sewing on a button! I know when I finish my blouse I just want to try it on and wear it right away, but I still need to sew on all those buttons. So here is a tutorial to make the process easier and ensure that each button is sewn on securely and in a consistent manner.
I tried this way of sewing on a button, and I had great success with it. Too many times I have sewed on my button putting my needle through the button holes in no specific pattern…I simply just stitched away until it was secure. Not any more! I love this step-by-step from burda style magazine's 08/2012 issue, and wanted to share.
Step 1: Thread the thread into the eye of the needle. The thread should not be longer than 40cm, so it does not become tangled.
Step 2: Knot the thread twice.
Step 3: Place the button on the garment marking. From the wrong side of the fabric to the outside push the needle through the fabric at the top right button hole.
Step 4: Go through the buttonhole like shown in the illustration, going through the fabric after each hole.
Step 5: Repeat step 4 several times. Do not over tighten the button while sewing, keep the space between the button and fabric a couple of mm.
Step 6: Wrap your thread around the stitches several times. This helps when inserting the button into the corresponding buttonhole.
Step 7: Insert your needle to the wrong side of the garment. Wrap your thread through the stitches several times and knot off.
Happy button sewing!
Meg
illustration mit freundlicher unterstützung