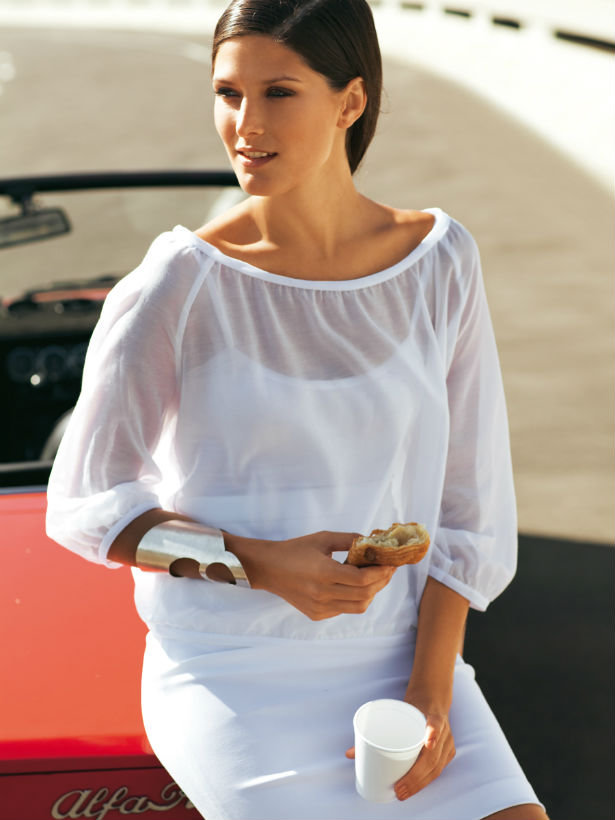 ShareThis
There are a number of creative ways to incorporate sheer fabrics into a style. Whether you're sewing a fully sheer garment or adding in a see-through sliver here and there, everyone can rock this trend.
Sheer panels and sections spice up any style. Plunging neckline cut-outs, sheer yokes and sleeves, abstract sheer insets along the garment… there are countless ways to incorporate sultry sheers into your sewing projects. To add cutout sections to a pattern, simply draw in your desired style lines, separate the pieces of the pattern, and add seam allowance to all new sides.
The Iris Dress would be an absolute head-turner with a few of the blue sections sewn in a sheer fabric!
Sheer blouses and tops aren't exactly a new look, but that hasn't made them any less popular as of late! The cool, breezy feel is perfect for this time of year.

Sheer Blouse, Sheer Boatneck Blouse, Sheer Top, Chiffon Blouse
Sheer skirts and dresses are another fun trend. Lately, sheer skirts worn over bodysuits or high-waisted underwear have been a go-to red carpet style. While that particular look isn't for everyone, there are so many different ways to style a sheer skirt! Try lining a sheer with a different color for an eye-catching contrast. Or, add a sheer panel to the hem of your skirt for a stylishly simple enhancement.
>
Like this fiery red dress? Get the look by pairing a fitted mini skirt with a sheer maxi!
Sheer garments are an undoubtedly fashionable way to show off a little skin. If you want to get the sheer-cutout look without feeling overexposed, try layering a piece of opaque nude fabric beneath the sheer section. You could also go with a contrasting color to really stand out! If you're still on the fence about see-through garments, try an embroidered tulle, lace, or printed mesh in lieu of a solid sheer for a bit more coverage.
How do you feel about sheer styles?