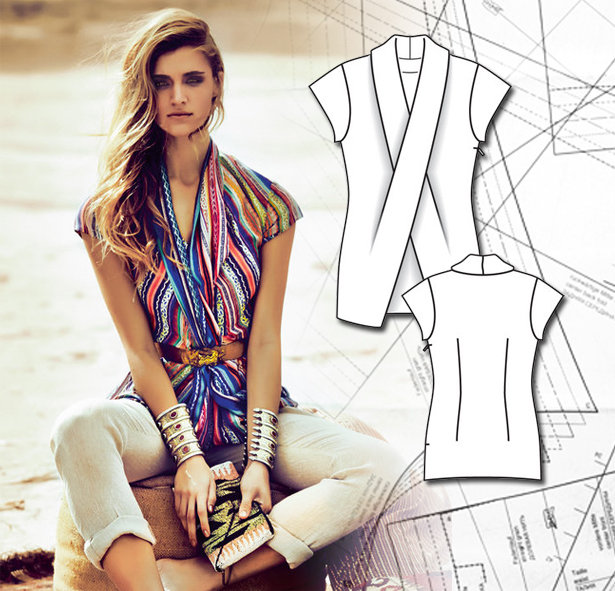 ShareThis
Here is an easy to follow sewing lesson for our X Shawl Collar Top sewing pattern that debuted in our Paradise Found pattern collection from the April 2014 issue of BurdaStyle Magazine. Check out all the great diagrams to help you sew this unique top.
As soon as I saw this Top and corresponding X Wrap Dress, I fell in love with the wrap style and wanted to make one (still on my to make list). For my version I would want to cut each half in a different fabric/color so that the wrap style would fuse them together.
Refer to this pattern's store page here for specific fabric yardage and notion requirements. Also remember to add seam allowance, which can be found in the instructions after purchase.
Step 1- Back darts: Fold back piece along centre of each dart, right side facing in. Pin dart lines together. Stitch, beginning at centre of dart. Do not backstitch at points of dart but knot ends of thread securely. Press darts toward centre back.
Step 2- Front, shawl collar pieces: On front piece, fold seam allowance at point of neck edge (centre front) down and press. Clip allow­ances of bottom points between mark­ed stitching lines to approx. 5 cm (2 ins) before the ends.
Fold one cut-on shawl piece on fold line, right side facing in. Pin shawl pieces together from marking (seam number 1) to bottom point. Then pin edges of front together from bottom point to marked neck edge – pressed-under edge of front (see illus. 2) meets marked neck edge (seam number 2).
Step 3- Stitch, ­beginning at marked neck edge. Take 2 stitches across bottom point. Stitch shawl edges together the stitch outward at an angle from seam mark ­(seam number 1) to seam allow­ance edge.
Step 3a- Turn front back at seam and pin in place.
Step 4- Then fold second shawl piece in same manner and stitch seam. Clip seam allow­ances each between lines of stitch­ing, close to points. Trim allow­ances along seams to 7 mm (1/4 in) wide.
Step 5- Neaten allowances at side edges (below seam number 2). Turn cut-on shawl pieces right side out. Pin open edges together approx. 5 cm (2 ins) long, beginning at seam end.
Step 5a- Press shawl pieces on seam edge. Press ­seam allowances of front toward side edges below seam number 2.
Step 6- Baste shawl pieces to neck edge, centre seam: Baste left shawl piece to right neck edge, from seam mark (at seam number 1) approx. 5 cm (2 ins) long, right sides together. Then baste right shawl piece to left neck edge, approx. 5 cm (2 ins) long, from ­seam mark.
Step 7- Fold ends of shawl pieces (= centre back seam edges) open, lay right sides together and pin centre seam. Stitch.
Step 8- Press seam allow­ances open. Then fold shawl pieces again on fold line, wrong side facing in. Baste remaining open edges together.
Step 9- Shoulder seams: Lay back piece on front piece, right sides facing. Pin shoulder seams. Stitch. Press seam allowances open and ­neaten edges. Baste shawl piece to neck edge, right sides facing, ­matching seam marks to shoulder seams.
Step 10- Face neck edge: Lay front facing on back facing, right sides together. Pin shoulder ­seams. Stitch. Press seam allowances open. Neaten inside facing edge. Pin facing to neck edge, over the shawl piece, right sides together. Shoulder seams must match and seam lines must match. Stitch. Trim seam allow­ances. Clip allowance of facing at centre front, close to line of stitching. Turn facing over seam allow­ances and stitch to seam allowances, close to ­seam, beginning and ending as close to front point of neck edge as possible. Turn facing to inside. Press edge. Sew inside facing edge to seam allowances.
Right side seam: Lay front on back, right sides facing. Pin right side seam. Stitch. Press ­seam allowances open and finish edges.
Step 11- Invisible zip, left side seam:
Make small clips in the seam allow­ance edges of left side front and back edges to mark the slit. Open the zip and push the coil back with your thumbnail to reveal the seam line be­tween the tape and the coil. Place the open zip face down on right fab­ric side of back slit edge. In order to stitch the zip in place, ­exactly along the marked seam line, the distance between the edge of the tape and the edge of the fabric must be calculated as follows: width of seam allowance minus 1 cm (3/8 in) tape width = ­distance from edge of fabric. This will result in 5 mm (3/16 in) if the width of the seam allow­ance is 1.5 cm (5/8 in). Pin top end of zip tape to edge of seam allowance – teeth of zip begin at slit mark. Place the ­presser foot on the zip so that the coil is in the notch to the right of the needle.
Step 12- Stitch zip in place, be­tween slit marks. Close zip. Place the second zip tape face down on the front slit edge and pin in place.
Step 13- Open zip again. Place the presser foot on the top end of the zip so that the coil is in the notch to the left of the ­needle. Stitch zip in place between slit marks.
Step 14- Lay the back on the front, right sides together. Pin left side seam above and below the zip, laying loose zip end out of the way, over the seam allowance. Use your machine's zipper foot to stitch the seam from top and ­bottom, stitching as close to last ­stitches of zip seams as possible. Press ­seam allowances open and ­neaten edges of allowances.
Step 15-  Sleeves: On each sleeve, make a small clip in edge of seam allowance at inset marks (seam marks). Fold each sleeve­ piece in half, right side facing in. Pin sleeve seams. Stitch. Press seams open. For each sleeve, pull one sleeve unit into the other, right sides ­facing – matching seams and sleeve inset marks (markings 8). Pin lower sleeve edges together. Stitch. Trim seam ­allowances. Turn sleeves. Press hem edge. Baste open edges ­together.
Step 16- Setting in sleeves: First pin sleeves along underarm ­curve, matching sleeve seams and side seams and also seam marks 8 on sleeve and front.
Step 17- Then pin seam mark at sleeve cap to shoulder seam. Pin remainder of sleeve cap in place. Working from sleeve side, baste and stitch sleeve in place. Trim seam allowances to 1 cm (3/8 in), neaten together and lay toward sleeves in area of sleeve cap.
Hem: Press hem allowance to inside, turn edge under to a width of 2 cm (3/4 in), and edgestitch in place.
I love this top for the summer time, and I would wear this shirt casually just with a pair of neutral shorts like these retro shorts.
Happy Sewing!
Meg