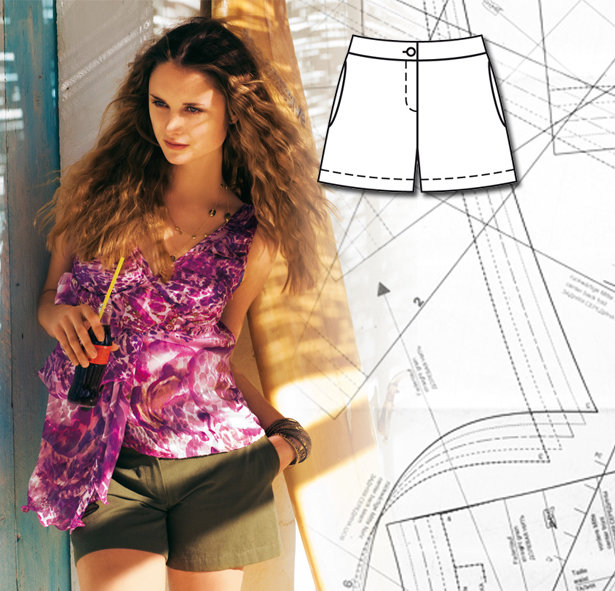 ShareThis
Here is an easy to follow sewing lesson for our Green Shorts sewing pattern that debuted in our Strawberry Fields from the March 2011 issue of BurdaStyle Magazine. Check out all the great diagrams to help you sew these basic summer shorts.
These mid rise shorts are a warm weather essential. Last season I really got into wearing shorts and even carried them over to fall by pairing with tights. This summer I want to make them in a nice floral or digital print.
Refer to this pattern's store page here for specific fabric yardage and notion requirements. Also remember to add seam allowance, which can be found in the instructions after purchase.
Step 1- Darts: For each dart, fold back piece so that dart lines meet. Pin dart lines together. Stitch, beginning at upper edge. Do not backstitch at point of dart but knot ends of threads securely. Press darts toward cen­ter back.
Step 2- In-seam pockets, side seams: Neaten allowances of side seam edges on front and back pieces. ­Neaten all edges of pocket pieces. Pin ­each pocket piece to pocket opening edge of front and back pieces, right sides together, matching seam marks. Stitch pocket pieces to seam allow­ances, close to marked seam line.
Step 3- Turn pocket pieces over seam allow­ances. Press. Lay front pieces on back piece, right sides facing. Pin side seams. Stitch seams, but do not ­stitch across pocket openings, between seam marks.
Step 4- Press seam ­allowances open and press front pocket opening edges.
Step 5- Press pocket ­pieces forward and pin together. Stitch pocket pieces together. Baste pocket ­pieces to upper edge of shorts.
Step 6- Inside leg seams: Fold each shorts unit lengthwise, right side facing in. Pin inside leg ­seams. Stitch. Press seam allow­ances open and neaten edges.
Step 7- Centre front seam, zip: Neaten allowance of centre seam edges on shorts pieces. Also neaten vertical side edge and narrow bottom edge of facing piece. Pin unneatened vertical edge of facing to opening edge of right shorts half, right sides together. Stitch along centre front from upper edge to slit mark.
Step 8- Fold bottom edge of facing up at slit mark and pin.
Step 9- Pull one shorts leg into the other, right sides facing. Pin centre front ­seam from slit mark to inside leg ­seam, matching seam lines. Stitch.
Step 10- Pull shorts legs apart again. Fold fac­ing of right front to inside. Press. Press left edge of slit to inside, 5 mm (3/16 in) before marked centre front, clipping seam allowance to about 5 mm (3/16 in) before stitching line.
Step 11- Pin left slit edge to zip tape, close to teeth of zip, Stitch in place, close to edge, using your machines one-sided edge foot (zipper foot).
Step 12- Pin slit closed, matching centre fronts.
Step 13- Pin facing of right slit edge to second zip tape, not catching shorts piece. ­Stitch zip to facing.
Step 14- Work from right side of garment to topstitch right slit edge as marked, up to beginning of curve, thereby catching the facing.
Step 15- Fold underlap piece in half length­wise, right side facing in. Stitch lower edges together. Trim allowances. Turn underlap right side out and press. Neaten open long edges to­gether. Pin underlap under left edge of slit so that neatened edge lies on zip tape.
Step 16- Work from inside to ­stitch allow­ance of slit edge to underlap, close to stitching line of zip. Topstitch remaining slit edge as marked, catching underlap.
Step 17- Waistband, back centre seam: Stitch side seams on waistband pieces, right sides facing. Press seam allow­ances open. Pin outer waistband units to upper edges of shorts, right sides facing. Leave right end of waistband extending at right slit edge and pin left end of waistband to underlap. Stitch. Press seam allowances onto waistband ­units. Trim away right end of waistband, 1.5 cm (5/8 in) from centre front.
Step 18- Neaten lower edges of inside ­waistband units. Lay inside waistband units right sides together with outer waistband units. Pin ­together along upper edges and front edges – at centre front on right end of waistband. Stitch. Trim seam allowances, trimming corners diagonally.
Step 19- At centre back, turn inside waistband units up. Press seams open, approx. 5 cm (2 ins) long. Pull one shorts leg into the other again, right sides facing. Pin centre back seam on shorts and waistband as continuous seam. Stitch. Press seam allow­ances open, from upper edge to ­beginning of curve. Turn inside waistband to inside. Press. Turn under edge of inside waistband, about 5 cm (2 ins) long from each front edge, and pin to joining seam. Pin remaining inside edge of waistband in place, without turning under.
Topstitch waistband close to all edges. Work buttonhole in right front edge of waistband. Sew button to left end of waistband.
Hem: Press hem allowance to inside, turn raw edge under to 2 cm (3/4 in) wide, and edgestitch in place.
These shorts are a great summer staple so I would simply jazz them up with a textured tank like this one, colorful jewelry and a comfy pair of tennis shoes.
Happy Sewing!
Meg