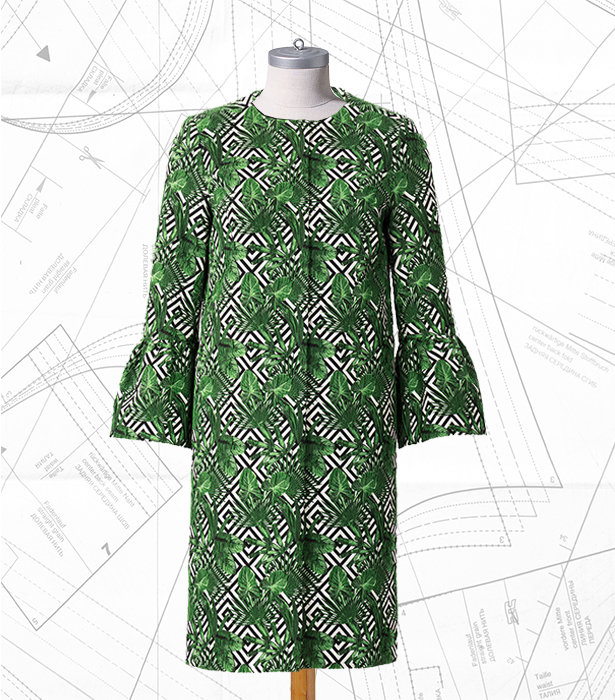 ShareThis
Make a beautiful transition from one season to the next – choose this coat with welt pockets and frilled sleeves. Read on to see the step-by-step tutorial on how to sew this coat that debuted in our Fresh Start pattern collection from the March 2019 issue of BurdaStyle magazine. Check out all the great diagrams to help you sew this transitional coat.
Refer to the pattern's store page for specific fabric yardage and notion requirements. Also remember to add seam allowance (you can either add to the paper pattern before cutting or to the fabric around the pattern… see below), further info and amounts can be found in the instructions PDF after purchase.

STEP 1: CUT OUT THE FABRIC PIECES
Fold the fabric in half lengthwise, right side facing in. Pin the paper pattern pieces to the fabric as shown in the cutting layout. Place pieces 4 and 6 at the fold. Use a hand gauge and chalk to mark the seam and hem allowances, 1.5 cm (5/8") for seams and 4 cm (1 5/8") for hem and sleeve hem. Then measure and mark piece a with the ruler. Cut out all the fabric pieces.



STEP 2: CUT THE INTERFACING
Fold the interfacing in half, adhesive side facing in. Fold piece 9 in half on the fold line. Pin on pieces 5, 6 and 9, pin piece 6 at the fold. Add 1.5 cm (5/8") seam allowance at edges. Also use a pencil and ruler to mark a strip of interfacing 3 cm (1 1/4") wide and the length of front crosswise seam plus 3 cm (1 1/4") allowance. Cut out the pieces.



STEP 3: IRON ON THE INTERFACING
Use a damp cloth to iron interfacing on wrong fabric side over each area, do not slide the iron. Please read the manufacturer's instructions. Iron the strips of interfacing on front pocket opening edges as illustrated. Leave the pieces to cool to allow the interface to bond well with the fabric.



STEP 4: TRANSFER PATTERN MARKINGS
Fold back facing in half, right side facing in. Lay front pieces, front facings and welts each right sides together. Pin on paper pattern pieces again. Use dressmaker's carbon paper and a tracing wheel to transfer the pattern outlines (seam and hem lines), all other markings and centre front to the wrong side of the pieces. Follow the instructions included with the carbon paper. Use basting thread to transfer centre front and hem to the right fabric side. The snap fasteners will be marked later (see step 23).



STEP 5: CUT OUT THE LINING PIECES
Fold lining in half lengthwise, right side facing in. Pin on pieces 7, 8 and 10 to 13 as illustrated. Use tailor's chalk to mark 1.5 cm (5/8") seam and hem allowances round all edges. Cut out all the lining pieces. Use dressmaker's carbon paper to transfer the pattern outlines to the wrong side.



STEP 6: STITCH FABRIC POCKET PIECES
Pin pocket pieces of top fabric right sides together with pocket joining edge of side front pieces and stitch from front edge to marking. Backstitch to secure ends of stitching. Press seam allowances open.



STEP 7: WELTS
Fold welts on fold line, right side facing in. Stitch side edges (edge without seam number 1) together. Trim allowances. Turn welts, press. Baste long open edges together and pin to welt joining edge on front pieces (seam number 1). Match side edges of welts with markings.



STEP 8: STITCH ON WELTS AND POCKET LINING PIECES
Pin pocket lining pieces right sides together with pocket opening edges over welts. Stitch pocket pieces and welts. Do not stitch over allowance in front. Backstitch to secure ends of stitching. Clip fronts in corner close to line of stitching as illustrated (arrow). Do not cut into welt or pocket pieces. Turn pocket pieces to inside. Lay welt up. Press.



STEP 9: FRONT PANEL SEAMS
Lay front pieces with welts on outside of side front pieces so that pocket piece joining seams meet. Pin welts. Fold fronts as illustrated so that they lie right sides together with side front pieces. Pin panel seams (seam number 2), go on to pin pocket pieces together all in one. Stitch.



STEP 10: CROSSWISE SEAMS
Then lay front pieces up and stitch crosswise seams next to edges of welts from side edge to marking (seam number 3). Backstitch to secure ends of stitching. Press allowances of panel seams onto fronts. Press allowances of crosswise seams down. Sew side edges of welt to side front with invisible stitches by hand.



STEP 11: CENTER BACK SEAM /STITCH ON YOKE
Lay back pieces right sides together. Stitch centre seam. Press allowances open. Pin yoke right sides together with back and front pieces (seam numbers 4 and 5). Stitch. Press allowances onto yoke.



STEP 12: FACINGS/ SHOULDER
Lay front facings right sides together with back facing and pin shoulder edges together. Stitch shoulder seams. Press allowances open.



STEP 13: STITCH FACING
Pin facing right sides together with front pieces and neckline edge, matching shoulder seams of facing with front yoke joining seams. Stitch facing, stitching at bottom on marked hem line. Trim allowances, clip curves close to stitching several times. Trim allowances at corners at an angle. Trim hem allowance to just 2 cm (3/4") before end of facing (arrow).



STEP 14: TURN FACING TO INSIDE / STITCH HEM
Turn facing to inside. Baste edges and press. Press hem allowance to inside, pin. Stitch hem loosely by hand, catching only 1 – 2 threads of coat fabric so that stitches are not visible on the right side of the garment. Sew on inside facing edges at hem.



STEP 15: SLEEVES
Lay under sleeve pieces right sides together with upper sleeves. Pin back sleeve seams (seam number 8), stitch. Press allowances open. Fold sleeves lengthwise, right facing side in. Pin front sleeve seams (seam number 7), stitch. Press allowances open.



STEP 16: SLEEVE FRILL
Fold sleeve frill piece right side facing in. Stitch narrow edges together. Neaten allowances and press open. Neaten lower back edge and press hem allowance to inside by 4 cm (15/8"). Stitch hem loosely by hand.



STEP 17: STITCH ON SLEEVE FRILL
To gather upper frill edge, stitch two closely spaced lines of machine basting 7 mm (1/4") next to edge (stitch length 4 mm / a good 1/8"). Hold bobbin threads and slip fabric of frill together to fi t width of sleeve. Knot threads, distribute gathers evenly. Pin frill right sides together with lower sleeve edge, matching seam with front sleeve seam. Stitch. Lay frill down. Press allowances onto sleeve.



STEP 18: SET IN SLEEVES
Pin sleeve right sides together with armhole edge. Three points are important for proper fi t: Match markings 10 on sleeve and front. Match marking at sleeve cap with shoulder mark on yoke. Match marking on under sleeve with side seam. Baste and stitch sleeve from sleeve side. Press allowances at sleeve cap toward sleeves.



STEP 19: BACK LINING / EASE PLEAT
Lay back pieces right sides facing. Stitch back edges together. Stitch on lines marked for ease pleat. Backstitch to secure ends of stitching. Press pleat to one side.



STEP 20: CONSTRUCT LINING
Stitch bust darts on fronts toward points of darts. Press darts down. Stitch yoke to front and back pieces. Press allowances of seams each onto yoke. Stitch side seams and sleeve seams. Press allowances to one side. Set in sleeve linings. Press allowance at lower lining edge and at lower sleeve edges to inside.



STEP 21: STITCH LINING TO FACING
Pin lining right sides together with facing (seam number 14). Match shoulder seams. Stitch lining, beginning and ending about 10 cm (4") above hem edge (arrow). Clip allowance of lining at back neck edge.



STEP 22: SEW ON LINING
Place lining inside coat with wrong sides facing. Place sleeve linings inside fabric sleeves. Press allowances of facing onto lining. Push up lower lining edge and sew on at hem by hand. Lay extra length of lining down like a small fold. Sew remaining lining edges on at front facing. Sew lower edge of sleeve linings on at allowances of frill joining seams by hand.



STEP 23: MARK THE SNAPS
The snap fasteners (x) are marked for size 36 on paper pattern piece 5. The bottom x is the same for all sizes. Move the top x for sizes 38 to 44 up according to the neckline. Space the other x evenly in between. Lay the paper pattern piece for all sizes on right front and use straight pins to mark the x on the fabric. Mark x on outside of left front (in centre front) likewise.



STEP 24: SEW ON THE SNAPS
Sew top halves of snaps to facing of right front, taking even stitches and exiting needle on right side of garment. Sew bottom halves of snaps on left front to match.



FINISHED!


Want more sewing lessons? Check out our last one here on our Belted Pullover.