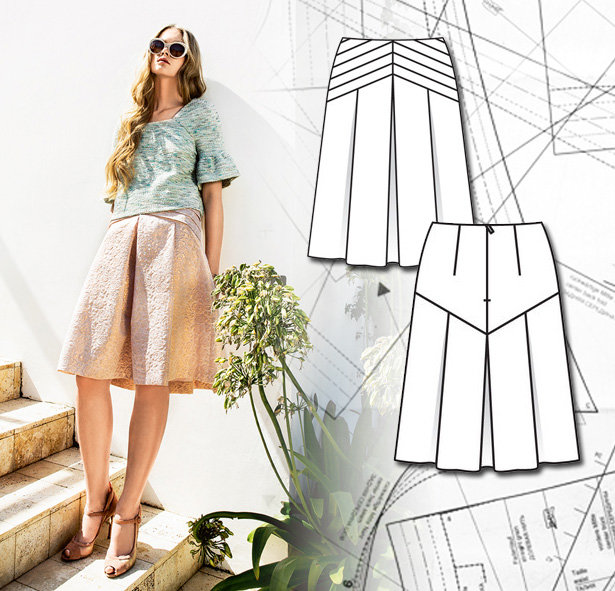 ShareThis
Here is an easy to follow sewing lesson for our A-Line Skirt with Pleated Yoke sewing pattern that debuted in the recent Softly Charming collection from the February 2014 issue of Burda Style magazine. Check out all the great diagrams to help you sew this pretty pleated skirt.
This skirt has couture styling and construction with all those perfectly placed pleats. Wow everyone around you in saying that you made this skirt! The A-Line silhouette is virtually flattering on every body type, and the hem length can be easily taken up or down. I love the pastel-sheen fabric that is used here, but for more my style I would wither make it in a plain white or a bright turquoise!
Refer to this pattern's store page here for specific fabric yardage and notion requirements. Also remember to add seam allowance, which can be found in the instructions after purchase.
Step 1- Pleat pieces, front yoke: On the pleat pieces (a), use vanishing chalk to mark the placement lines and fold lines for the pleats on the right fabric side, along one 60 cm (23 3/4 in) long edge: mark lowest placement line 1.5 cm (5/8 in) from edge, mark fold line 6 cm (2 1/2 ins) from placement line, mark next placement line 3 cm (1 1/4 ins) from preceding line, mark fold line 6 cm (21/2 ins) from placement line, etc. Fold the fabric on the bottom fold line, wrong side facing in. Baste fold, then baste fold edge to bottom placement line. Fold the fabric on the 2nd fold line, baste fold, and ­baste to 2nd placement line etc. Press pleat pieces. Pin pattern piece for front yoke to right side of fabric – once with printed side facing up, once, fac­ing down. Attachment edge of yoke lies on fold of bottom pleat. Cut out the ­yoke ­pieces with 1.5 cm (5/8 in) seam allow­ances.
Step 2- Lay pleat pieces on corresponding yoke pieces, with wrong side facing right side, and baste together along all edges. Lay yoke pieces together, right sides facing, and pin centre front seam. Stitch, ending exactly at marked yoke attachment line. Press seam allowances open
Step 3- Pleat skirt panels: Work from right side of fabric to lay pleats in skirt panels in direction of arrows. Baste pleats to upper edge (3).
Step 4- Invisible zip and centre seam: On seam allow­ances of back yoke ­pieces, make small clips to mark the slit. Open the zip and push the coil back with your thumbnail to reveal the seam marking between the tape and the coil. Place the open zip face down on the right fabric side of one back slit edge. In order to stitch the zip in place exactly along the marked seam line, you must first calcu­late the distance between the tape edge and fabric edge as ­follows: width of seam allowance minus 1 cm (3/8 in) tape width = ­distance from edge of fabric. This will result in 5 mm (3/16 in) if the seam allow­ance is 1.5 cm (5/8 in) wide. Pin top end of zip tape to edge of seam allowance – teeth of zip ­begin at marked upper yoke edge. Place the presser foot on the zip so that the coil is in the notch to the right of the needle.
Step 5- Stitch zip in place as far as marked slit. Close zip. Place the second zip tape face down on the second slit edge and pin the top in place.
Step 6- Open zip again. Place the presser foot on the top end of the zip so that the coil is in the notch to the left of the needle. Stitch zip in place as far as slit mark.
Step 7- ­Below zip, lay yoke pieces together, right sides facing. Pin centre back seam from lower edge to slit mark, laying loose end of zip over seam allow­ances. Use your machine's one-sided edge foot (zipper foot) to stitch the seam from lower edge to as close to zip seams as possible (7). Press seam allowances open and neaten.
Step 8- Stitch yokes in place: Pin front yoke to front skirt panel, right sides facing, spreading allow­ances of centre seam apart at point of yoke. Stitch, not catch­ing fold of bottom ­pleat.
Step 9- Now first pin back yoke to upper edge of corresponding half of skirt panel, from one side edge to centre back. Stitch.
Step 10- At centre back, clip allowance of skirt panel ­close to last stitch. Then pin skirt panel to ­yoke from, centre back to side edge. Stitch. Press seam allowances onto yokes.
Side seams: Lay skirt front on skirt back, right sides facing. Pin side seams. Stitch ­seams. Press seams open and neaten edges of seam allowances.
Step 11- Double the yoke with lining: Stitch darts and seams on yoke ­pieces, ­leaving slit open. Press seam allowances open. Press allowance on lower edge to wrong side. Pin yoke lining to upper edge of skirt, right sides facing. At slit edges, fold allow­ances to outside, 5 mm (3/16 in) before marked seam line, and pin. Fold allowances at slit edges of skirt to outside, together with the zip, and pin to upper edge of skirt, over lining.
Step 12- Stitch along upper edge of skirt. Trim seam allowances. Turn ­lining up and stitch to seam allow­ances, close to ­attachment ­seam, stitching as close to zip as possible. Fold yoke ­lining and allowances at slit edges to inside. Turn edges of ­yoke lining under and pin to zip tapes. Pin lower yoke edge to ­attachment
seam. Sew lining in place by hand.
Hem: Neaten lower edge of skirt. Press hem allowance to inside and sew in place loosely by hand.
This skirt is so pretty, and a great base for an outfit to wear to spring backyard parties or bridal and baby showers. I styled it here with our Bodice Top and Sheer Wrap Sweater. Since the pleating on the top of the skirt is so intricate I would definitely wear it with a shorter top. I love the look of the a bustier style top, you could even sew the top in the same fabric to make this outfit look like a two-piece dress. How would you style this skirt?
Happy Sewing!
Meg