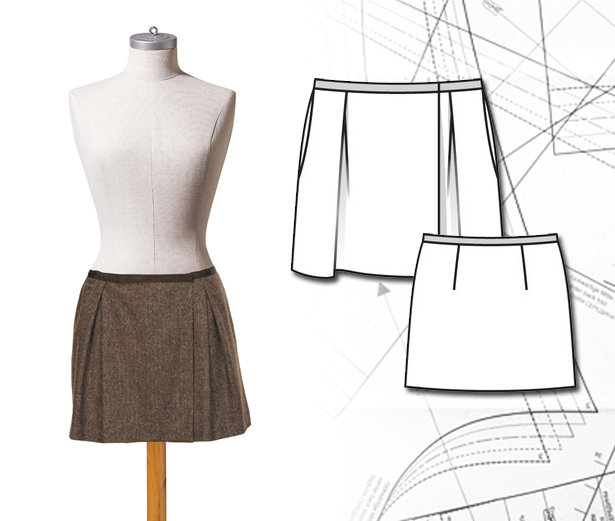 ShareThis
Here is an easy to follow sewing lesson for our Inverse Pleated Mini Skirt sewing pattern that debuted in our Grey Gardens from the August 2011 issue of BurdaStyle Magazine. Check out all the great diagrams to help you sew this wrapped mini skirt perfect for spring!
I like how understated this mini skirt is and almost has a kilt look to it, so it would look super cute sewn in a plaid print. If you want to keep it springy and light I also suggest sewing in a lightweight chiffon. The ribbon waistband adds a decorative touch and allows for definition at the waist.
This pattern PDF also has the pieces and markings for our Pleated Midi Skirt. All the sewing instructions are the same, just simply trace out the longer hemline B indicated on the PDF pattern.
Refer to this pattern's store page here for specific fabric yardage and notion requirements.
Step 1- Pin pattern pieces to fabric. Mark seam and hem allowances: 4 cm (15⁄8 ins) for hem and 1.5 cm (5⁄8 in) on all other edges. Transfer pattern lines and markings to fabric pieces. Hand baste along pleat lines to make them visible on right side of fabric. Make small clips in allowances at seam marks to mark pocket openings.
Step 2- Fold each skirt back piece along centre of dart, right side facing in. Pin the dart lines together, then stitch them together, beginning at upper edge. Tie-off beginning of seam with backstitching. At the point of the dart, do not backstitch but knot threads instead. Press darts toward centre back.
Step 3- On all skirt pieces, finish/neaten edges of allowances on side seam edges.
On pocket pieces, finish long, straight edges. Lay each pocket piece on side seam edge of skirt piece, right sides facing, matching the small clips (step 1). Pin pocket pieces to skirt pieces. Stitch 1.2 cm (1⁄2 in) from raw edges of fabric.
Step 4- Fold pocket pieces over seam allowances, away from skirt pieces.
Press. Lay skirt front pieces on skirt back piece, right sides facing. Pin side edges together. Stitch 1.5 cm (5⁄8 in) from raw edges of fabric, leaving pocket openings open, between clips. Tie-off beginning and end of each seam with backstitching.
Step 5- Lay skirt pieces out flat and press seams open. For each pocket, turn both pocket pieces toward skirt front. Pin edges of pocket pieces together then stitch them together (not catching the skirt). Finish pocket edges together.
Step 6- Finish/neaten the front edges of the skirt. Fold each front edge to the inside, along the marked FACING FOLD line, and pin it in place. Press the front edges.
Step 7- Now it's time to fold the side pleats in both the skirt fronts. First make the smaller, inner pleats, as follows: Fold one pleat line to meet the other pleat line, in the direction of the arrow. Baste the pleat fold to the upper edge of the skirt.
Step 8- Now make the larger pleats. Fold the fabric over the smaller, inner pleat, on the marked fold line. Baste the pleat fold to the upper edge of the skirt.
Step 9- Pin petersham ribbon to seam allow­ance on inside upper edge of skirt – edge of ribbon meets marked seam line. Begin on left front edge and leave ribbon end extending here, 1 cm (3⁄8 in) wide. On right front edge, leave ribbon extending. Edgestitch lower edge of ribbon in place.
Step 10- On the right front edge, fold the extending ribbon to the outside and pin it along the upper edge. Trim the ribbon end 1 cm (3⁄8 in) past the left front edge of the skirt. Turn ribbon ends under. On outer side of skirt, topstitch close to upper and lower edges of ribbon.
Step 11- Sew upper halves of snap fasteners to ends of waist ribbon – to outer side of left end and to inner side of right end. Make sure that stitches are not visible on the outer side of the ribbon. Lay the right skirt front on the left skirt front, matching the centre fronts. Mark positions for lower snap halves. Sew lower snap halves in place, as marked.
Step 12- On the hem edges of the skirt fronts, open the facings out flat again (see step 6). Finish/neaten the lower edge of the skirt. Press the hem allowance to the inside. Sew the hem in place loosely by hand. Then fold the facings to the inside again and sew them to the hem allowance. Press the hem edge of the skirt.
There you have it a wonderful wrapped and pleated skirt for spring and summer. You could even sew it in a medium weight wool or twill for a nice winter skirt. Here I have styled it with our chic Wrap Blouse that compliments the elements in the skirt. Pair with a colored handbag and comfy sandals for a day out to just chill.
Happy Sewing!