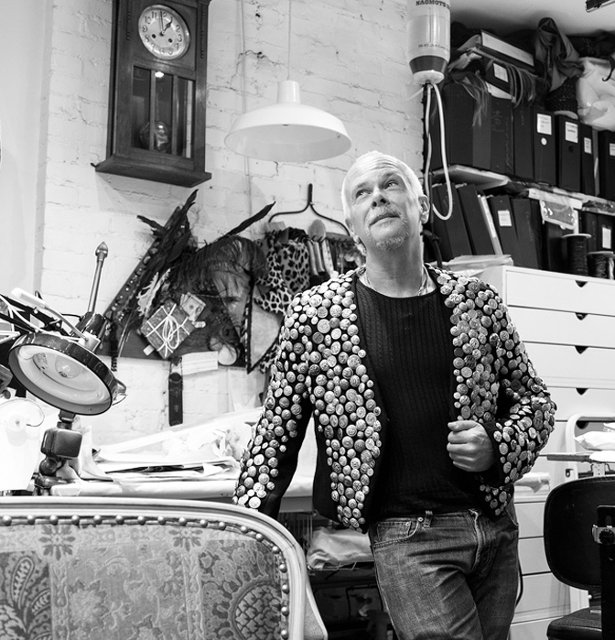 ShareThis
Have you wondered just why couture clothing has such appeal? Are you curious about what is underneath the lining, and exactly why it contributes to such a polished product? Kenneth King explains his techniques and methods, presenting other options and ideas that can be substituted for a similar effect. His course is filtered through his point of view that you want to take the effort to build the best garment possible without wasting time. You can strive for the illusion of perfection, and Kenneth believes that you should put that effort where it shows.
Follow along as Kenneth cuts out and constructs a demi-couture day dress. He will demonstrate the successive stages of construction while explaining just how and, more importantly, why each of these steps is necessary for a fine garment. From laying out the fitted pattern to the finishing touches on the lining, Kenneth will teach you all of the steps necessary to execute a beautiful demi-couture dress, techniques that translate to formal garments as well.
Kenneth D. King is a couture eveningwear designer in New York City. He also teaches as an Adjunct Professor in the Haute Couture Certificate Program at the Fashion Institute of Technology in New York.
Kenneth started sewing at age 4 for his Barbie, got a degree in fashion merchandising, moved to San Francisco after college, and started his couture business in 1986. He also trained there under a Paris-trained teacher who taught him the Ecole Guerre-Lavigne method of couture patternmaking.
Kenneth's books include Designer Techniques (1996), Designer Bead Embroidery (2006), and Cool Couture (2008). He has published fifteen instructional books-on-CD on various topics, which can be found at his web site: kennethdking.com
His work is in the permanent collections of a variety of celebrities, as well as the museum permanent collections of the L.A. County Museum of Art in Los Angeles, the DeYoung Museum in San Francisco, CA, the Oakland Museum in Oakland, CA, and the Victoria and Albert Museum in London.
What You Will Learn:



Interlinings, their purpose, different interlining options, and how to choose the best one for the project.


Properly applying the interlinings to the fashion fabric.


Sewing inside curved seams to outside curved seams.


Tacking down seam allowances.


Sewing intersecting seams so they meet exactly.


Kenneth's trick for perfectly-spaced saddle or pick-stitching.


Beautiful installations of the invisible zipper and the traditional hand-picked zipper.


Lining fabric choices.


Eliminating unnecessary seams in a lining pattern.


Hand-installing a lining in a sleeveless bodice as well as a sleeved bodice.


Beautiful finishing details inside the lining.
Who Should Attend:
This course is intended for the intermediate to advanced sewist who want to create exceptionally constructed clothing, either for themselves or for clients. The methods shown in this course are practical, efficient, and reliable. This course covers the "how-to" as well as the "why" of the techniques outlined, so the student can reason out solutions to other projects.The project is a day dress, but the techniques are adaptable and relevant to formal garments.
Anyone who desires to sew beautiful couture garments.
Dressmakers who want to improve their skills and the products they sell.
Alteration professionals who wish to understand and alter couture garments.
Designers starting out who want to build their designs with the best, most-efficient techniques.
Testimonials:

Excellent course Ken. It was well taught with lots of interesting techniques. The visuals were sharp and focused up close so all tricks of the trade were visible. The clarity of the tape was great which aided in the learning and retention long after the class ends. I look forward to more wonderful, and useful material as taught by you. Just wish there was a hard copy for future reference. – AL

Wow, what an amount of work, especially the hand stitch one. I really was not aware of. This course was really great! I expected a lot and I was not disappointed. I learned a lot and Kenneth has such a great ability to explain things. What I also appreciate is that he explains why things should be done that way. I feel so ready for my first self made couture dress :-) Thanks a lot! – KB