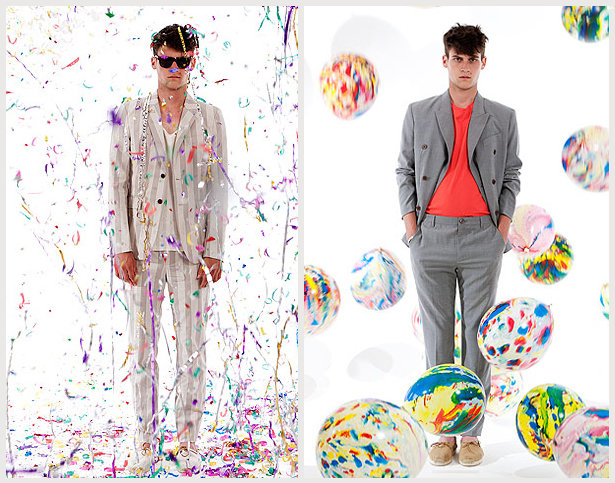 ShareThis
How many of you sew for men? Or are men sewing for yourselves? When it comes to fashion design and the sewing world, menswear tends to take a back seat to womenswear— why do you think that is? Well I haven't forgotten about menswear and the patterns listed in the post are sure to inspire. Read on + get the pattern downloads.
Above: If Shipley + Halmos can have this much fun with menswear so can you!




A classic button down shirt seems to land in every man's wardrobe. The shape has remained quite the same for decades, and the fun lies in the details. Mixing up thread colors for the buttons + button holes, adding piping, or finding a great plaid can make this classic modern.




Another staple, the vest, has only changed slightly throughout history. By changing the button count, deepness of the "v" and pocket placement can put a fun twist on this pattern. And don't forget about linings— I love putting a quirky surprise lining in a men's vest.




If you have a great knit, some Pendleton wool or a chunky knit this cardigan is the perfect template for showing off a bold knit, like the Missoni menswear looks above. Keep out the sleeves and you have a nice knit vest for in-between seasons.




I love menswear with a pop of color and this double breasted coat is another great template for making just that. Cut it from a lighter-weight sueded cotton, plaid or canvas for spring. Or combine complimentary colors like Timo Wieland did with his beige + aqua barn jacket.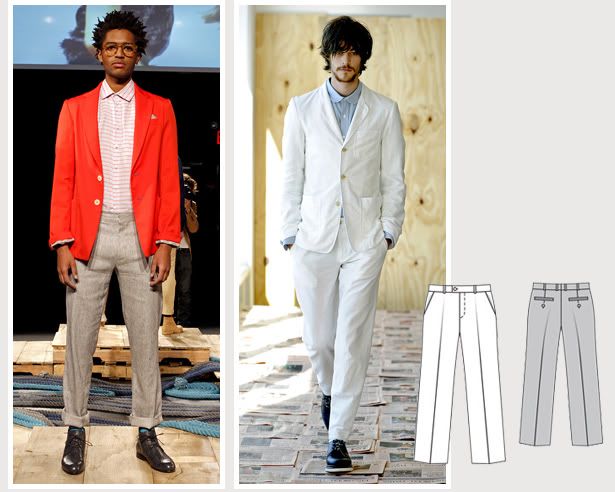 It's tough for anyone to find a go-to trousers pattern, but this is a good starting point. Before cutting into fabric, always test your trousers in muslin and adjust any ill-fitting areas. Once you alter a pattern to make it work for you, you've got a treasure trove of possible creations.




The icing on the cake, and beginner friendly projects, are the tie and the bow tie. Test run these patterns on scrap fabric— even girls can combine these into their wardrobes!

More Menswear

Learn to draft the Men's Basic Shirt Block.

Learn to draft the Men's Basic Shirt Collar.

Tips on spicing up a men's shirt.