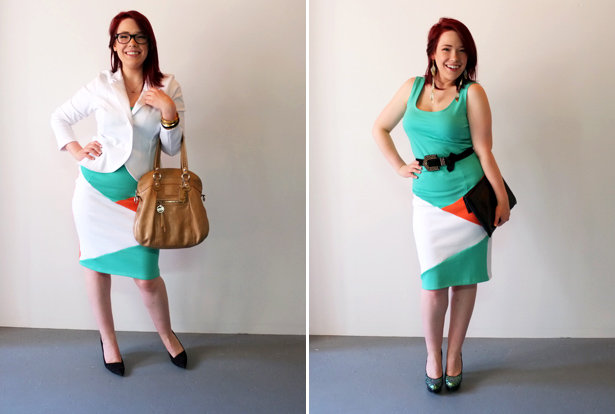 ShareThis
I love sewing with knit fabrics, and even more so I love wearing knit fabric clothing! To get ready for the bright and colorful season ahead I sewed a complete outfit that can take me from day until night all using Nancy's Notions Bare Knits fabric. Check out to see how I sewed my garments and styled them taking me from daytime cool to nighttime hot!
I chose three of our BurdaStyle.com patterns to make an outfit that is transitional, springy, and most importantly will work with jersey fabrics. I knew I wanted to make a three piece suit and it all starting off with this jersey blazer pattern that I sewed in this white cotton rib knit. The white jersey was a perfect match for the blazer, but I wanted to infuse some color in the outfit so I decided to make our paneled pencil skirt in which I paneled together the same white cotton rib knit, tangerine cotton poly rib knit, and jade cotton poly rib knit. Nancy's Notions cotton rib knits are a great medium weight jersey perfect for jackets, dresses and skirts, but it was a little to thick for my Sadie under tank which I sewed in their super soft jade cotton poly interlock knit. The best part of their Bare Knits' fabrics is that the colors are always dyed to be a perfect color match to the corresponding fabric, so my interlock jade tank perfectly matched my cotton rib knit jade paneled in the skirt!
We all know there is a bunch of preparation steps to garment making before we start sewing and these projects were no different. I always find the more time and care I put into the preparation of a garment the better it turns out… The tank was easy I simply just cut the front and back out of the jade interlock and remember that this particular Sadie tank pattern has seam allowance included! On the skirt pattern you have to trace out the mid-bottom panel of the skirt with tracing paper, and interface facing pieces 7 & 8 with interlock interfacing like this. Then with the blazer remember that there are other pattern modes on the PDF so I traced out the shorter hemline. I also decided to omit the pocket pieces on the blazer as well as the sleeve and back hem vents, I wanted to keep this blazer a quick, sleek, and easy sew project. The facing piece also needs to be interfaced with the same interlock interfacing. It is important to use stretch tricot interfacing when working with jersey, because you don't want to loose the stretch in the fabric!
Sewing the tank was a snap! I simply just serged the side seams and shoulder seams together and then turned the neckline, armhole, and hem allowances to the inside and coverstitched into place. If you don't have a coverstitch machine a twin needle, stretch stitch or zig zag stitch would work perfectly.
The skirt was also a simple sew. I first assembled the panels in the front of the skirt and then the back pieces. I serged the back pieces to the front along the side seams still leaving the center back seam open for the zipper insertion. Then I stitched all the facing pieces together at the side seams and sew them as a whole to the top waistline edge of the skirt. Once the facing was sewn in place I sewed the semi-exposed plastic zipper into place with the facing folded back at the top of the center back seam. But before I stitched the zipper in permanently, I pinned in place to determine where I zipper would end so I could mark the foldline of my hem.
The blazer was the trickiest to sew, but ended up looking great! First I assembled the front section seams of the front and the back then serged the shoulder seam together of the blazer and the facings but before I stitched the facing to the blazer I sewed the collar pieces together and slipped them right side out. I sandwiched the finished collar piece in-between the facing and blazer at the front notch marking on the pattern piece. For the side seams I had to finished the back hem edge of the back piece so I could sew the front facing up around my back side seam to make a clean edge.
For all the markings on my pieces I used Nancy's Notions wonderful new fabric marking Extra Fine Point Erasable Gel Pens. Let me just say these are AMAZING! I have been waiting for a fabric marking tool like this that totally disappears from your fabric, and just from the heat and steam of your iron. I used these pens to mark my buttonholes, darts, and notches. They came completely out of my fabric, even the white jersey which I was a little nervous to mark up.
Here is my final outfit styled for a busy and productive day at work. All the garments work so well together and I love the classic neutral blazer paired with a matching fashion pencil skirt and basic tank. This is definitely your classic business suit turned up a style notch! Here I paired with a nice low heel black pump with matching glasses and a an oversized bag for all my files (sewing patterns). The best part of this outfit I must say is the comfort since everything is sewn in jersey! Then when my work day is done and I am ready for some after work fun, I can simply change a few accessories and I am ready for the night…
To define my waist for the night I put on a belt with some hardware and of course slipped into a shimmery pair of heels. These heels also pick up on the jade tones in my outfit. The basic tank neckline shape is great for showing off a dangly pair of earrings and then the basic clutch pulled everything together. I am a fan of not getting too matchy-matchy with my accessories to my outfit… that is why I tend to lean towards black, gold, or silver accessories even when the outfit is colorful. I'll only utilize colorful accessories when my outfit is neutral, but since I wanted the colors and paneling in my outfit to be the feature I went with neutral accents and I like the black for nighttime. I wouldn't keep my white blazer too far away since it can get cooler at night in the spring and summer, but I would wear over my shoulders for a trendy look.
This outfit was a success and I loved working with these Bare Knits fabrics.
I just can't get over these awesome fabric marking gel pens, and will forever use them to mark my button holes as the pen marks disappear from the fabric even after I stitch my buttonhole! See more pictures of my Jersey Suit here.
TWO lucky BurdaStylers will get a pack of these wonderful gel pens when they answer the following question for a Comment to Win… simply tell us in the comment section of this blog post What jersey sewing pattern are you most excited to sew for spring, and in which color? This comment to win is open to ALL our members. We will choose the winners who post their comment before this Thursday April 24th at 11:59PM EST.
This post was sponsored by Nancy's Notions.
Happy Sewing!
Meg