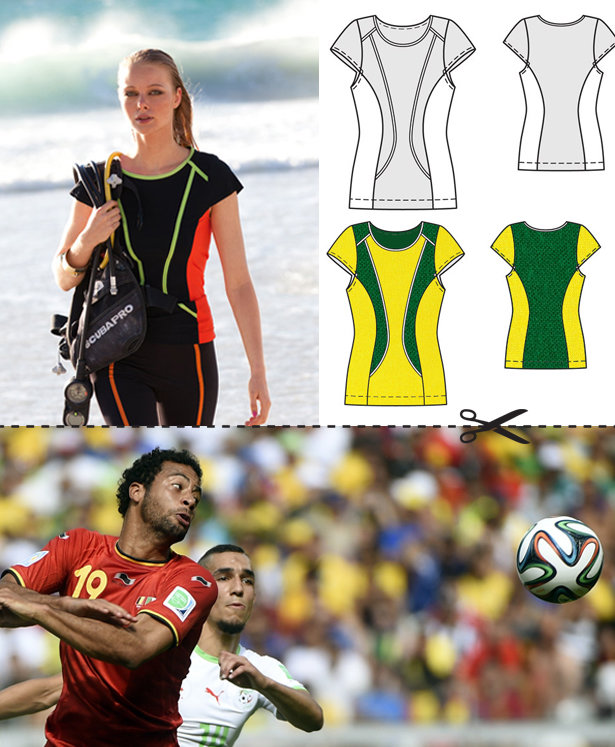 ShareThis
You can't escape the international phenomenon of the FIFA World Cup. Sew up a form fitting tee in your team colors to show your national pride! The totally customizable pattern is found in our Active Wear Collection.
In case you've been buried under fabric in your sewing room, the world is currently watching one of the most popular sporting events ever, the FIFA World Cup! Whether you call it soccer, football, or the most beautiful game, chances are you've seen a few matches by now. At Burda, we're celebrating the best way we know how… designing a customized, fitted jersey in team colors!
The Style T Shirt is part of our Active Wear Collection, and it may be the only athletic top you need. It's a form-fitting tee inspired by wetsuits, but you can mix and match fabric options and create the perfect top for running, yoga, team sports, or biking. Even better, the paneled design gives you lots of options for color blocking your team colors.
We mocked up jerseys showing off American red, white, and blue, Brazil's green and yellow, and Italy's lighter blue with white trim. The Style T Shirt is sewn in form fitting stretch jersey, with contrast trim for a more flattering silhouette. You get the sporty look and easy movement of a jersey, plus a feminine shape. To see how we made these sketches, check out the preview for How to Insert Fabric Swatches Into Your Garments. Learning this technique makes planning out your designs so much fun. Try swapping out athletic mesh for the side panels, or make the cap sleeves in metallic spandex.
Wear the Style T Shirt to your next World Cup watch party for a sporty outfit that isn't boring or boxy. You can style it with black leggings, or go for a playful summer look with cutoffs or jeans. If you're the super girly type, sew up a matching tennis skirt.
This top would make a great gift for girls on high school dance teams, yoga instructors, or soccer fans. Don't forget to tell us which team you're cheering for in the comments!
Get the Style T Shirt
Get the Active Wear Collection, with the Style T, four more sporty patterns, and videos for sewing yoga wear and stretch fabrics.